Xtreme Action Park hosts South Florida's Longest and Fastest Indoor Go Kart Track! We offer a "real" racing experience with European gas powered karts on a 1/2 mile poured asphalt track for superb handling and grip where you can reach speeds of 45MPH!  We provide complimentary use of helmets, neck braces and optional race suits to all members with an Xtreme Race License.
Adult Drivers can purchase single race sessions in Pro Karts. Race Sessions are 8 minutes long. Learn more about Timed Race Sessions vs. Lap Race Sessions by reading this article on different race formats.
For those who need more speed, we offer a special fleet of Super 9HP karts that can reach up to 65MPH on our track! These karts are available only to experienced Xtreme Race License Members that have completed at least 5 races on our track.
Requirements are as follows:
Drivers must be 16 years or older, a current Xtreme Member and show proficiency in our 6HP pro karts by recording a specific lap time.
Race Series 6
Want some Competition?! Sign up for our seasonal Race Series 6, open to experienced pro drivers with the chance to win great prizes. Some events also offer a unique track experience allowing drivers to compete not only on our regular track, but in a backwards format plus an alternate race track that others cannot participate in.
Learn More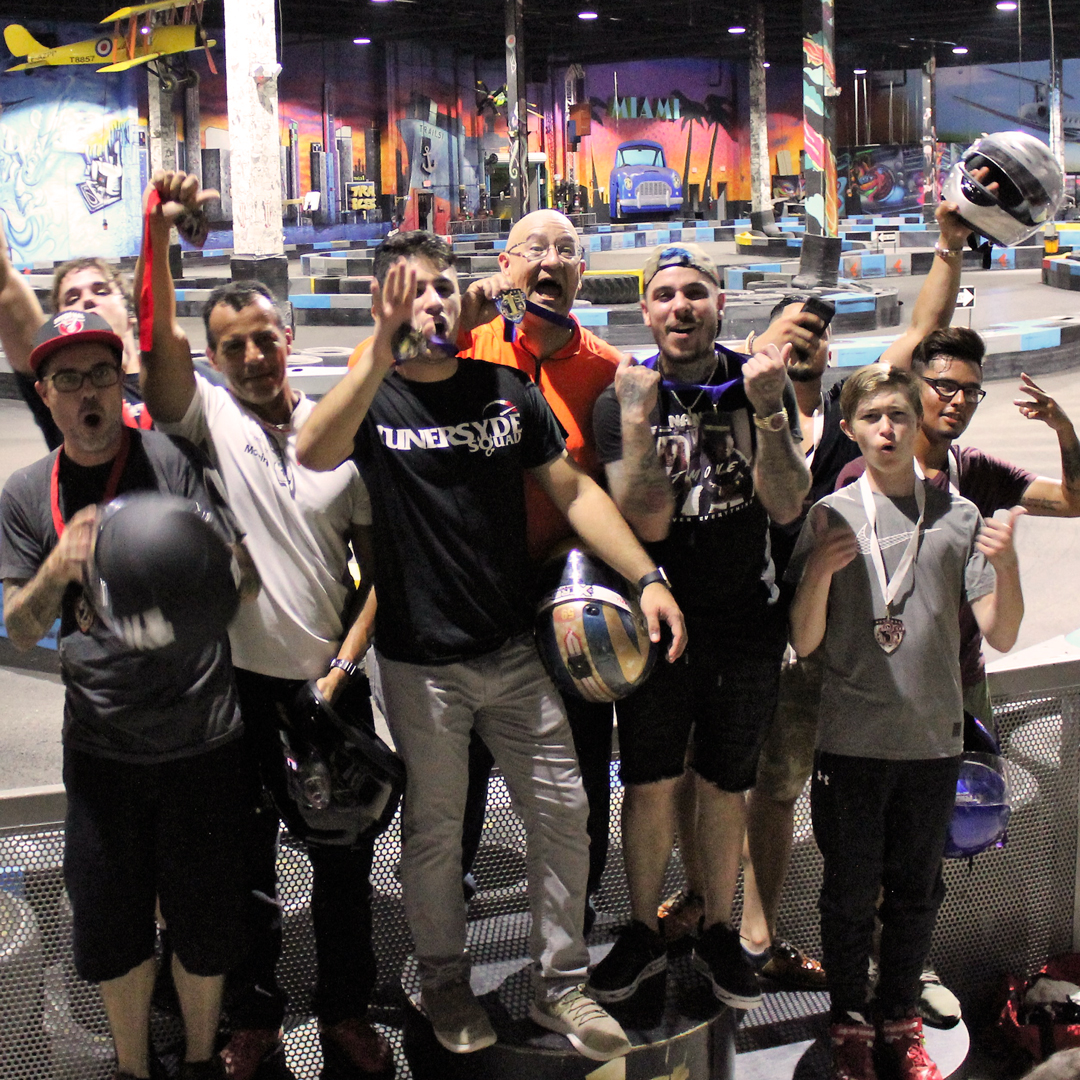 Adult & Super Race
Pricing
Adult Race Pricing
Pro Race Session
$28
Pro Race Session x3
$60
Pro Race Session x5
$86
Xtreme Race License with FREE Mobile App & Head Sock
$10
Extra Head Sock
$4
Helmet, Head Sock and Neck Brace Rental
Included
Prices shown include sales tax.
Super Race Pricing
Super Race Session
$30
Super Race Session x3
$70
Super Race Session x6
$134
Xtreme Race License with FREE Mobile App & Head Sock
$10
Extra Head Sock
$4
Helmet, Head Sock and Neck Brace Rental
Included
Prices shown include sales tax.
Choose this option to race with others around the track and compete for the best lap time.  Arrive and Drive Racing is available without an appointment and open to the public.  This style of racing is considered open format, which means that you are scheduled to the track in "heats" (groups) of 14 drivers or less. We divide our race heats into categories: Cadet, Pro & Super. This is based primarily on age and skill.  If you are looking to race against your friends across the finish line, then we recommend that you plan a Lap Race.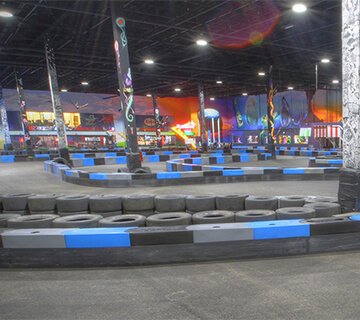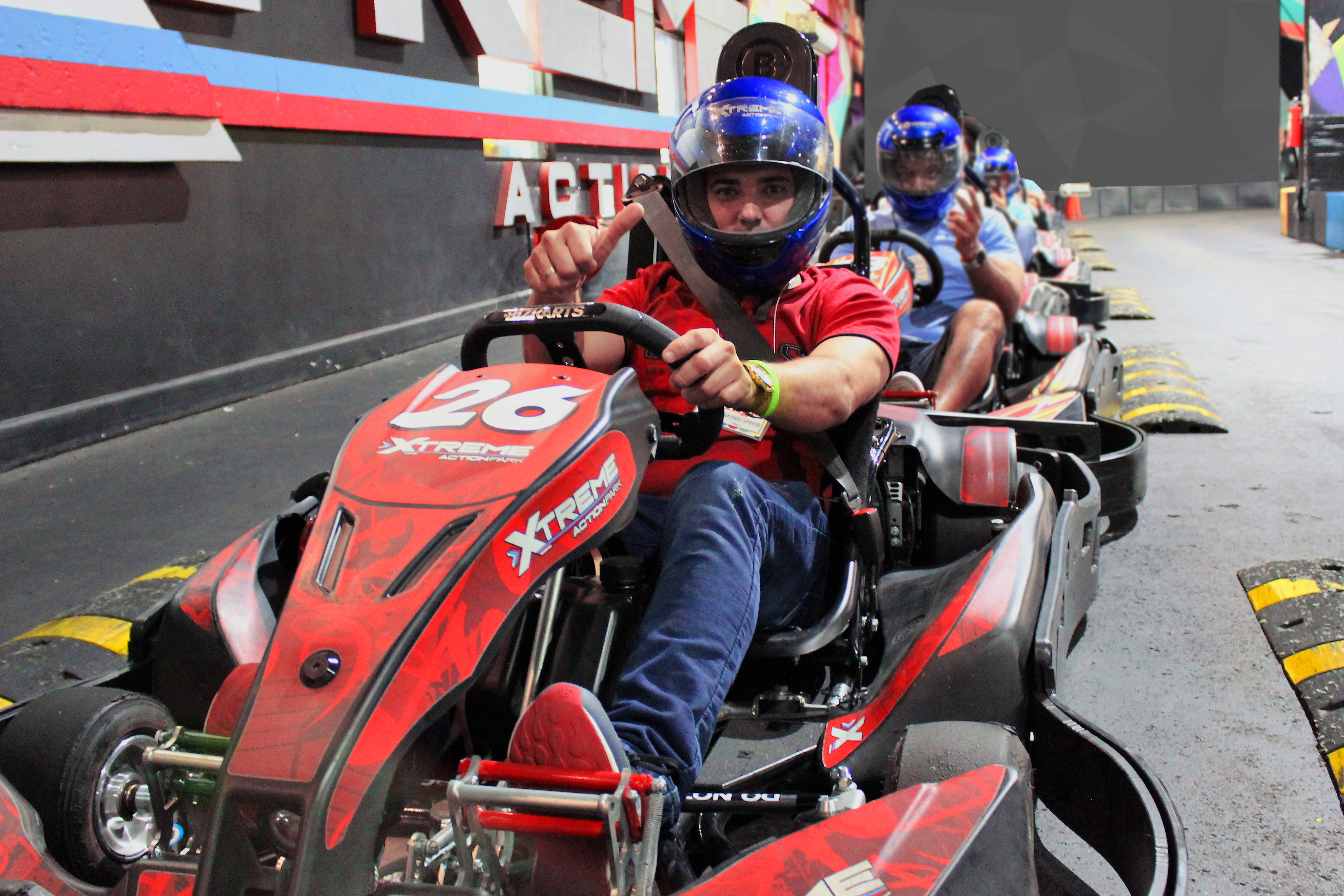 Lap Races are available to anyone 16 and older with a current membership. This style of racing is open to our Pro and Super Kart racers and is the best option if you are bringing a group of 10 or more. We will limit the race session to you and your guests where you can race against each other towards the finish line.
After a safety briefing including kart instructions and flag descriptions, the race will include qualifying laps to determine pole positions. Then, with a green flag start, your group will commence racing for your selected amount of laps. Our Track Marshal will guide your racing experience by waving a series of flags until the end with the checkered flag over the winning driver – the first in your group to complete all the laps.
Please note that due to the extra time required to schedule a lap race, we recommend that you call ahead or check our calendar for track availability.
Want an experience you and your friends will never forget?! Contact our event coordinators to plan a Race Event which can include unique racing formats, private room or bar space, full safety briefing and detailed track instructions, plus custom trophies or medals.  Enjoy more of Xtreme Action Park with options including arcade game cards, cocktails, track side beverages, and a full catered menu from snacks to buffet style dinner after your race. We can customize to your budget!