Want some Competition?!  Sign up for any of our scheduled races open to experienced pro drivers plus win great prizes. Some events also offer a unique track experience allowing drivers to compete not only on our regular track, but in a backwards format plus an alternate race track that others cannot participate in.
Xtreme Action Park has the ONLY gas powered indoor kart track in South Florida and because of this, we can offer a Real Racing Experience for our guests. Our 50,000 square foot go kart track consists of poured asphalt to provide superior grip and handling unlike common concrete surfaces. Concrete can cause a sliding effect keeping you from maintaining your race line and slowing your lap time.
At Xtreme Action Park, we have recently updated our track design to incorporate two new layouts in one design. The standard track hosts Cadet, Pro and Super Karts from our fleet.
Standard Track with thrilling new turns, chicanes, and shorter straights, this new layout incorporates a reinforced barrier and is well supported for all drivers.
Junior Track  offers all the fun of the larger track with easier handling for young drivers.
| Kart Regulations* | Age | Height | Max Weight |
| --- | --- | --- | --- |
| Junior Karts (TBA) | 5-9 yrs old | N/A | 110 lbs max weight |
| Cadet Karts (4.5 HP) | 10-12 yrs old | min 54 in (4ft-6in) tall | 120 lbs max weight |
| Pro Karts (6.5 HP) | 13 yrs + | over 62 in tall | 300 lbs max weight |
| Super Karts (9HP) | 16 and Up | over 62 in tall | 300 lbs max weight |
Our entire fleet now consists of a mix of gas powered European Race Karts and include four different models: BIZ Kart Junior Cadet (4.5HP), BIZ Kart EVO3 Pro  (6.5HP) and a new Fleet of Super Kart (9HP). Our Cadet karts have a Honda GX-120 engine, our Pro karts a Honda GX-200 engine, and the Super 9HP Karts will have a Honda GX-270 engine – all which have been enhanced for maximum performance. The Cadet and Pro karts have the capability to reach 35-45 mph on our track and our Super 9HP will reach up to 65 mph on a straightaway.
Pro and Cadet karts are not allowed on the track at the same time due to the differences in motor speed.
Because of this, kids may be put into a different heat than parents or those in your group.
Reminder: Drivers under 18 must present a minor waiver signed by a parent or legal guardian.
We offer the EVO3 Gas Powered go kart by BIZ Karts… This new model features fantastic advancements in both design and technology and is the spotlight model of the kart industry. The new fleet is lighter and offers improved handling over previous models. The engines have been race tuned to offer high speed racing entertainment.  Plus, the EVO3 also has a sporty new bodywork kit.  Come drive one today!
For our mechanically inclined customers, feel free to download the manufacturer Spec Sheet.
EVO3 Spec Sheet
Do you prefer Laps or
Timed Race Sessions?
Here are some tips and information about different racing formats to help you decide: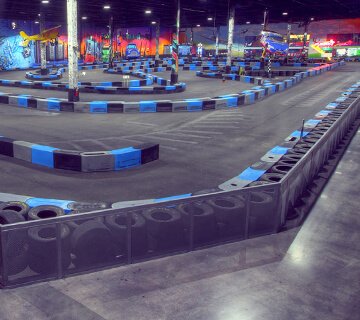 Track Length
If the track is a half mile long, like ours, you can expect it to take an average of 35 seconds to complete one lap. A shorter track may only take 20-25 seconds to complete a lap. Track length and lap times will help you determine if you are really getting enough seat time for your spend.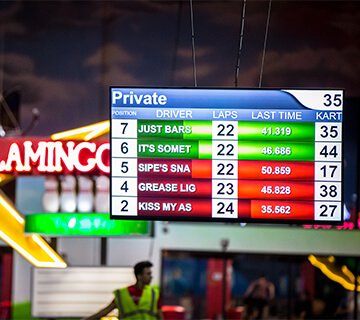 Timed Race Sessions
Race the clock for your Fastest Lap Time!  (a.k.a. Arrive & Drive Racing) Timed race sessions are a great choice to work on your race technique and practice. In this heat, or group, all drivers are racing the clock to reach or exceed their fastest lap time.
In this format, you can truly hone in the race line, work on maneuvering around other karts and feel the thrill of racing but at your own pace. When the time's up – your race ends. See your results and determine your best laps and get tips for a faster race next time.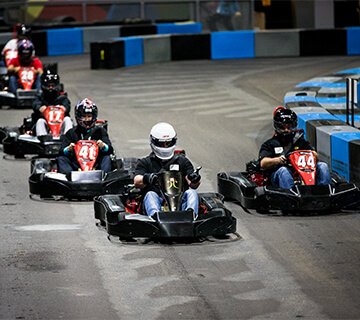 Lap Races
Race your Friends – but if you ain't first, you lose more than bragging rights.  A great option for a real racing experience as drivers in a Lap Race are competing with other drivers to cross the finish line first.
If someone is faster or a more experienced driver, then you can only complete the amount of laps completed until the fastest driver reaches the finish line and the race ends.
So if you only drive 8 laps in the amount of time it takes someone else to drive 10 – you don't get to continue driving.
The race ends and so do you.
At Xtreme Action Park, we offer both Time Race Sessions (Arrive & Drive) and Lap Races. We recommend for first time drivers and recreational racing to participate in our Arrive and Drive Timed Races. However, Lap Races will give you the closest "real" racing experience and our formats are second to none! We offer qualifying laps in conjunction with a grid line up and green flag start. Just you and your group on the track… then it is truly a competition race to the checkered flag for the finish!  Now just add some food, games and after race drinks – and you're ready for a fun day at the Park.
Learn more about booking a private Lap Race by Contacting a Planner: