Climb our Sky High Ropes Course above the arcade game room and wave below to friends or family.  Do you have the skills, balance and stamina to master the Ropes? Now the largest indoor Ropes Course Adventure in South Florida, try out our newest obstacles and extended platforms with advanced and beginner levels.
Take your time, there is no time limit while on the course so there is plenty of time to learn how to use our Smart Belay Harness System.  Participants can safely and easily move around the course without waiting for the person in front of you or stuck following in a line… simply choose your desired obstacle at each platform, latch on to the safety wire and then head that way!  Of course, watch for climbers on the other end. Ropes Course Tip: Gloves are recommended but not required.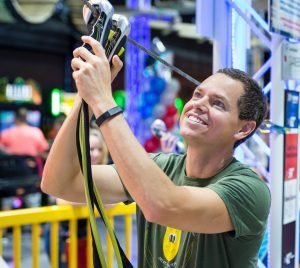 One time Up/Down Per Person – $17
Prices shown include sales tax.
Now the largest in South Florida, our Ropes Course Adventure features 25 platforms and 50 obstacles!  Simply choose your path using our Smart Belay system and challenge yourself while friends can photograph or watch from below.
Learn how to use our Smart Belay harness to maneuver thru these unique sections:
Alternating Logs, Zigzag Logs, Wooden Barrels, Round Bridge, Suspended Vertical Logs, a Bridge, Suspended 4×4 Platforms, Bridge Decking, Suspended X Crosses, Angled Suspended Logs, Burma Bridge, Crooked Bridge, Alternating Bridge, Suspended Horizontal Tires, Climbing Wall, Skateboard, Plastic Barrels, Wall of Tires, Suspended Ladder, Horizontal Ladder, Suspended Vertical Tires, Triangles, The Wave, Big Ass Rope, Crossing Cables, Monkey Bars, Suspended Round Platforms and more!
To ensure the fun and safety of everyone participating, please review the following rules and information.
Participants must be 52" tall and maximum weight must not exceed 250 lbs. to participate on the Aluminum Truss Rope Adventures Course attraction.
Participants must safely fit in the harness, and must notify XBK personnel of otherwise.
Closed, secured, or athletic footwear is required. No wheelies, flip-flops or open toe/heel shoes allowed.
Loose objects must be removed from pockets.  No gum, food or drinks allowed while on the course.
While on the Aluminum Truss Rope Adventures Course, safety harness must remain in front of the participant and around participant's shoulders at all times. MINOR must notify XBK personnel of otherwise.
Do not alter the harnessing system on the Aluminum Truss Rope Adventures
No running, jumping, hanging, reckless behavior or horseplay.
No jewelry is to be worn while participating in any Activity.
MINOR must be in good health to XBK has no knowledge of your health condition. If you are pregnant, recovering from any recent surgery, have heart problems, back or neck problems, and/or any other medical condition YOU ARE ADVISED TO NOT PARTICIPATE. Participating in such XBK activities provided herein, may aggravate any existing medical or health conditions.
MINOR may be denied access to the attraction for failure to follow these rules.
Safety is our priority which is why we use the Smart Belay® system with two pulley carabiners that can communicate with each other. If one of the carabiners is open, the second carabiner recognizes this and blocks the opening mechanism until the first carabiner is re-clipped into the safety cable. Only then can the second carabiner be unclipped from the safety cable. Accidentally unclipping both carabiners at the same time is therefore not possible.