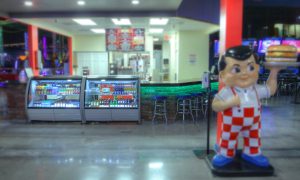 Enjoy burgers, shakes and fries in our All-American Cafe centrally located inside the Park. The main food court offers several seating options including high top community tables, booths and kitchen tables. Nestled between the cafe and the bar, you can dine, drink and still see the action on our 50+ LED tv's and even on the go track with floor to ceiling track views. Our most popular local fare includes Burgers, Wings, Pizza and Hot Dogs, but we also offer a variety of unique items such as Cheese steaks, Salads and more!
Catering is available and we can accommodate small groups with a variety of Appetizer, Fruit or Vegetable platters along with Wing Platters, Hot Dog & Burger Sliders and Sandwich or Wrap Platters. All served fresh from our kitchen! Or try having your very own Sushi Chef at your private event! Plus, on the weekends, lane service is available for Bowling Groups. After your meal, be sure to try one of our amazing Hershey's Ice Cream Shakes or Scoops. Maybe even reserve a Scoop Bar for your next big event!
As a reminder, no outside food or beverages are allowed. Birthday cakes only permitted for guests that purchase a party package. See our Birthday Party offers.
Team Hot Wing Challenge
Watch as our Xtreme Team was the first to try Chef Karl's new Hot Wing Sauce, "Mommy, it burns". This unique recipe will be the featured hot sauce at the All American Cafe & Restaurant inside Xtreme Action Park.
For the Challenge, each contestant had to eat 6 wings clean to the bone in less than 10 minutes. Once finished, they were then timed for 5 minutes with no water, bread, milk and couldn't even clean their hands!! See who wins…
Grilled Chicken, sauteed Onions, sauteed Peppers and Cheddar Jack cheese smooshed between a crispy flour tortilla.
Breaded Chicken tenderloins, deep fried to a delicious golden brown. Served with fries.
Tortilla chips piled high with Nacho Cheese, Shredded Chicken, Lettuce, Salsa and sliced Jalepenos.
Southwest Egg Rolls
$10.00
A variety of vegetables, chicken, black beans and plenty of melted cheese all wrapped up in a crispy fried egg roll.
Stretchy, cheesy, melty mozzarella that's battered and fried. Served with marinara dipping sauce.
Six Chicken Wings. Choose from Hot, Medium, Mild, Honey Hot, Garlic Parmesan or Lemon Pepper. Add fresh Garlic for $.50
Two Beef Burgers smashed then topped with Onions & American Cheese on a butter bun. Add more smashed patties – $1.50 each.
Philly Cheese Steak
$14.00
Shaved Sirloin with sauteed Onions, sauteed Peppers and Provolone Cheese served on a French Roll.
Two golden, crisp Waffles topped with boneless Buffalo Wings, syrup and powdered sugar.
100% All American Beef Hot Dog served with crispy, golden Fries.
Spring Mix salad topped with Onions, Tomatoes, Cucumbers, a Hard Boiled Egg and Ham served with choice of dressing.
Two slices of Cheese or Pepperoni Pizza
16″ Large Cheese Pizza. Toppings ($2 each): Pepperoni, Sausage, Bacon, Onions, Peppers, Banana Peppers.
Deep fried crispy potato fries.
Garlic Parmesan Fries
$7.00
Deep fried crispy potato fries topped with fresh Garlic and Parmesan Cheese.
Battered and fried Oreo cookies sprinkled with powdered sugar.
Choose from a variety of individual Hershey's Ice Cream treats.
Choice of Coca-Cola soft drinks.
Choose from Cherry, Lime, Blue Raspberry or Pineapple flavors.