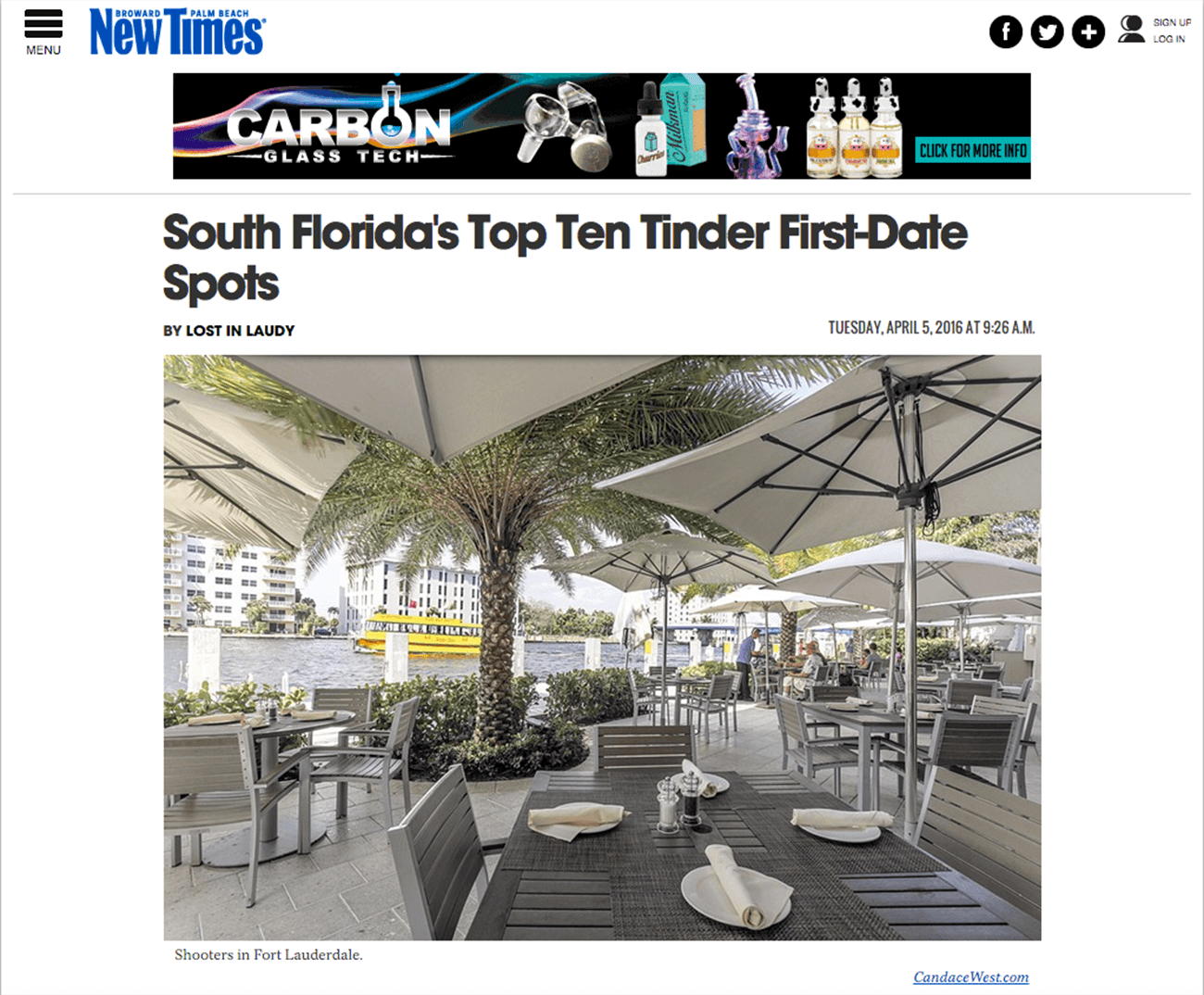 Published April 5, 2016  – Broward Palm Beach New Times
"South Florida's Top Ten Tinder First-Date Spots"
Tonight is Taco Tuesday, but none of your friends extended an invite this time, since last week you ended up flicking spoonfuls of guac across the bar after a few two-for-ones. So you're on the couch watching reruns of Law and Order: SVUinstead, swiping left, left… and left again, through all the unimpressive Tinder profiles of singles within your 20-mile radius.
Then, BAM, a diamond in the rough pops up, complete with a puppy, great hair, and a perfectly symmetrical face. Right swipe… it's a match! And fast-forward to the phone number exchange after agreeing to "meet up" this Friday night. Now what?
Tinder first dates end up either like a page out of a Nicholas Sparks novel or out of a Steven King one. Here are ten of the best places in South Florida to find out which scene yours will be.
For the Chill Type —
LauderAle Brewery and Tasting Room
Fort Lauderdale
The 1,500-square-foot converted warehouse space just outside of Port Everglades is commonly filled with equal parts dog and human. Everything on tap tastes good, and the beer is inexpensive, which means you can treat your potential bae without breaking the bank. There's also a Ping-Pong table in the back corner if you want to show off your sporty side or picnic tables where you can post up if conversation is more your forte. It's open only Tuesday nights and Thursday through Sunday, so don't make Monday or Wednesday plans or you'll end up looking pretty stupid.
Food Trucks at Arts Park
Hollywood
If you're allergic to alcohol or just feel more comfortable meeting a complete stranger in a crowded, public setting, a Monday date night at Young Circle is the way to go. Every Monday night from 5:30 to 9:30, more food trucks than you've probably ever seen in your life congregate at Arts Park in Hollywood to serve their delicacies. This is a great setting to find out if your date is capable of making executive decisions or not, because choosing whether to get a baked potato, pulled-pork sandwich, mac 'n' cheese, or teriyaki chicken is going to be tough. There's also lots of open space to run away if your date turns out to be a psycho.
For the Shallow Type —
Commercial Pier
Sunrise
The locals-only, old-town feel of the pier is a great, nonthreatening place to strip down in front of a stranger for the first time. I suggest starting on the beach to get a glimpse of their body and what you're working with. Then walk up along the pier and chit-chat about why there are so many people with fishing poles and no fish. Afterward, grab a beer and some ice cream at the nearby shops, or rent some poles and bait and try to catch a snack yourself. Watching your date cast that fishing line will give you a hint as to the level of his or her outdoor survival skills. These qualities are important to consider when choosing a mate, just in case the Zombie Apocalypse actually happens.
JB's on the Beach
Deerfield Beach
JB's is a great restaurant for brunch on Saturdays and Sundays, right before hitting the beach. Everyone loves breakfast foods, so you don't have to worry about them not liking something on the menu. You can trade them a piece of your French toast for some of their omelet, while mimosas and the view will keep things light and airy.
For the Adventurous Type —
Xtreme Action Park
Fort Lauderdale
Go-karts will get the adrenaline pumping and will also tell you if they are a horrible driver or not — or if they won't be OK with your lead foot. The karts can go up to 45 mph, and all that speed is likely to produce some feel-good endorphins to keep the laughs flowing when you start to make terrible jokes out of nervousness. There's a full bar for when you're done and want to start asking each other those "first-date questions" over a beer or a few shots, whatever your style. The staff here is mostly young, plus there's an arcade, so it gives the night that high-school-date feel, which your Tinderella will find either creepy or cute.
Museum of Discovery and Science
Fort Lauderdale
Here, there are plenty of dioramas and activities to keep conversation going, just in case your date turns out to be boring. If things end up going well and you want to extend your time with them, there's the IMAX theater next door, where you can snuggle up behind the big screen and feed each other popcorn. See what they look like with their hair all messed up after putting them through the hurricane simulator, and then find out if they're the kind of person who gets excited about rocks in the dig pit. It's only $15 for a ticket, and if you're date shows up looking unlike their picture (not in a good way), then you can just stare at the adorable otters instead.
For the Romantic Type —
Shooter's Waterfront Grille
Fort Lauderdale
If your face looks best against the backdrop of the Intracoastal and splashed with outdoor string lighting, you'll appear most impressive to your new match at Shooter's. The ambiance will make you feel fancier than you actually are, and the people-watching in the outdoor seating area can be prime. While sipping on a tropical cocktail, you can comment on the boats passing by in between answering thrilling questions like "So, what do you do for a living?" and "What do you do for fun?" If going on a weekend night, make a reservation or risk awkwardly sitting at the front of the restaurant and making small talk for an hour while you wait.
Sea Watch on the Ocean
Fort Lauderdale
If your date is someone you Super-Liked and you want to experience a cozy kind of romantic night with them, head to Sea Watch on the Ocean. The whole vibe here is quaint and happy, with great ocean views. As long as your potential significant other isn't allergic to seafood, you're pretty much guaranteed to have a good time. The combo of the beach-house atmosphere and great food ensures a safe bet you'll be securing a second date after this one (given your personality doesn't suck). The place does a sunset meal deal from 5 to 6 p.m. May through December, when for only $24 you can order the 1 1/4-pound Maine lobster without sweating through the meal because you're pretty sure your credit card is about to be declined and your date will never text you back again.
For the Foodie —
Thai on the Beach
Fort Lauderdale
Everything on the menu here is delicious (unless you don't like Thai food — then just head downstairs for some pizza). It's a hidden gem along Fort Lauderdale Beach that your recently right-swiped has probably never been, so you can pat yourself on the back for being someone who helped them experience new things. It's nestled just above Primanti Bros on the corner of Sunrise Boulevard and A1A, serving some bomb curry in the tiny dining room with a great view of the ocean. If you're capable of sitting cross-legged for a prolonged period without losing feeling in one or both of your feet, you can dine against the throw pillows at a traditional Thai-style dinner table, raised slightly above the floor. Or if it's been a while since your last stretch, you can sit at a regular table instead.
Mustard Seed Bistro
Plantation
From the outside, this little European-style café doesn't look like much, but the food here is unbeatable and the atmosphere relaxed. So even if your eyes are not seduced by the real-life version of the photos you swiped, your taste buds certainly will be by your plate. This spot's cupcakes are well-known among foodies, so unless your dining partner has diabetes, you'd be an idiot not to order one (or two if you're greedy).
– Lost in Laudy
Link here: https://www.browardpalmbeach.com/music/south-floridas-top-ten-tinder-first-date-spots-7688405/2