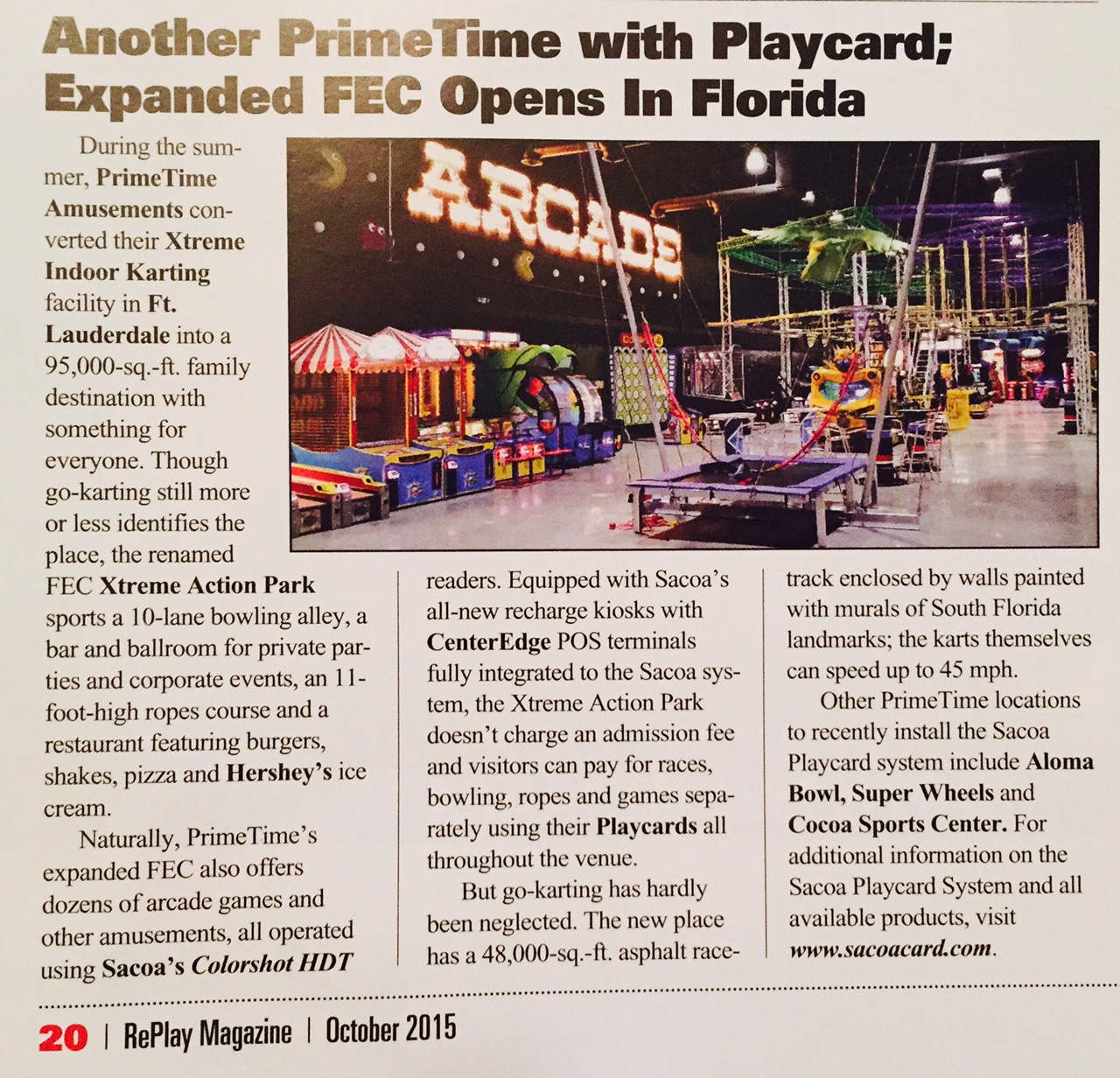 ANOTHER PRIMETIME WITH PLAYCARD: EXPANDED FEC OPENS IN FLORIDA
Printed in RePlay Magazine – October 2015
During the Summer, PrimeTime Amusements converted their Xtreme Indoor Karting facility in Fort Lauderdale into a 95,000 sq ft. family destination with something for everyone.  Though go-karting still more or less identifies the place, the renamed FEC Xtreme Action Park sports a 10 lane bowling alley, a bar and ballroom for private parties and corporate events, an 11 foot high ropes course and a restaurant featuring burgers, shakes, pizza and Hershey's ice cream.
Naturally, PrimeTime's expanded FEC also offers dozens of arcade games and other amusements, all operated using Sacoa's Colorshot HDT readers.  Equipped with Sacao's all new recharge kiosks with CenterEdge POS terminals fully integrated to the Sacoa system, the Xtreme Action park doesn't charge an admission fee and visitors can pay for races, bowling, ropes and games separately using their playcards all throughout the venue.
But go karting has hardly been neglected.  The new place has 48,000 sq ft asphalt racetrack enclosed by walls painted with murals of South Florida landmarks; the karts themselves can reach speeds up to 45MPH.
Other PrimeTime locations to recently installed the Sacoa playcard system include Aloma Bowl, Super Wheels and Cocoa Sports Center.  For additional information on the Sacoa Playcard system and all available products, visit ww.sacoacard.com