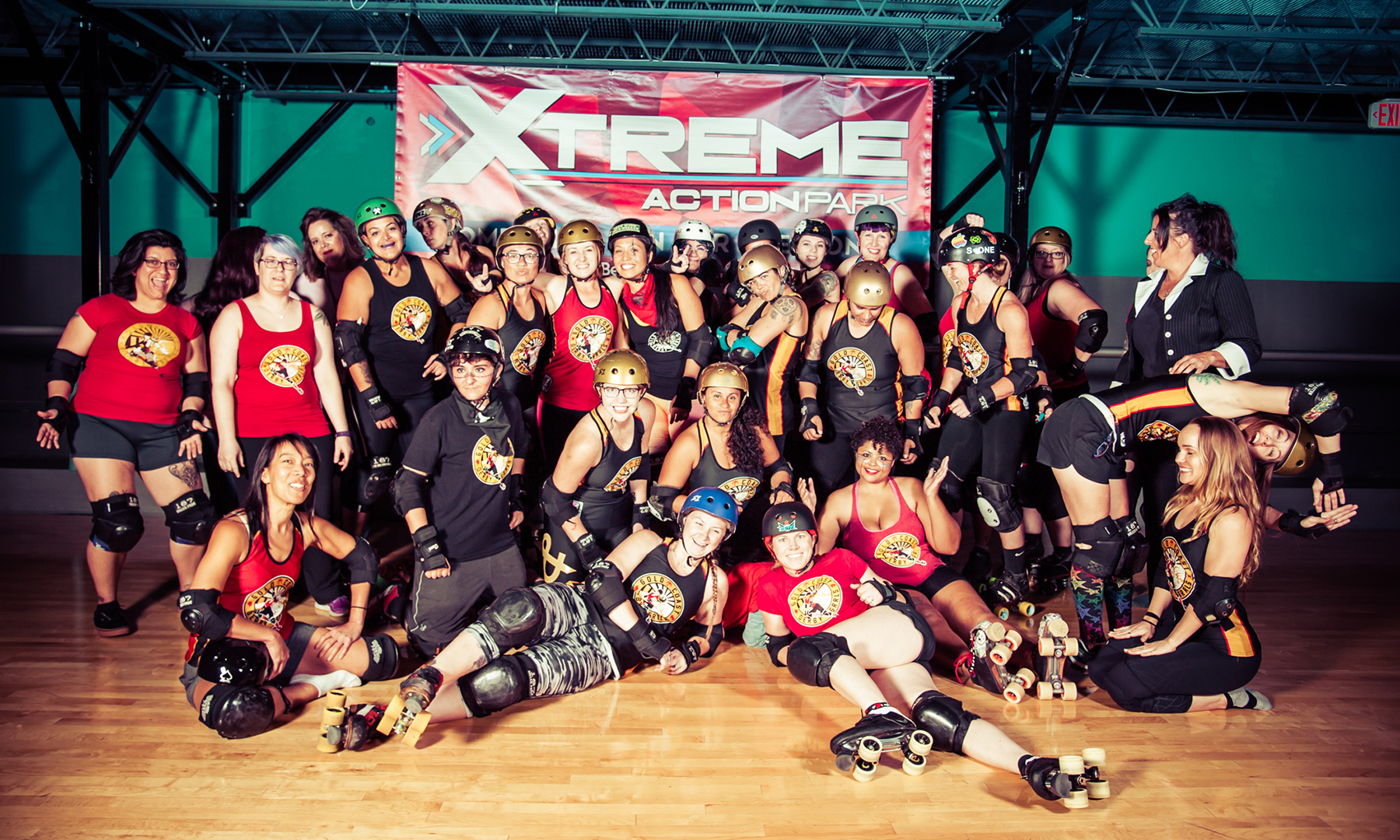 GOLD COAST DERBY GRRLS THRILL FANS AT NEW HOME
Posted March 6, 2017
by: Rick Menning
Sun-Sentinel Reporter
For the Gold Coast Derby Grrls and their fans, there were an abundance of positives as the team christened its new surroundings Saturday night at Xtreme Action Park in Fort Lauderdale.
From the superb track, to the cushy sideline seating, to the panoramic view from the mezzanine deck, to the up close and personal feel as players rounded the turns, this was an evening of superlatives for a team of skilled skaters that has been without a home for five years.
And although the Gold Coast Cat 5's squad dropped a hard-fought 195-163 decision to Orlando, this evening of high-energy derby action was more about the setting than the outcome between the competitors from south and central Florida.
"It is really amazing to have a place like this," said Jennifer Sinner, known to roller derby fans by her track name (aka) Sinnagunz. "Everyone here (at Xtreme Action Park) is so friendly and so welcoming. It's nice to be indoors and not rained on every day."
"It's beautiful. It was a very nice night and our fans were great," said Michele Crough Vaughan aka Crazy Yinzer.
That inaugural fan base at Xtreme Action Park included Lauren Groulx-Cahow, her husband Landon Cahow and their daughters Nora, 6, and Violet, 5. The Coconut Creek family was already seated in the front row long before the bout started in order to get the best view of the action.
It was their first-ever roller derby outing, and they left impressed by the Derby Grrls' performance.
"They are not little princesses," Groulx-Cahow said. "It is pretty intense out there. They are great athletes. They come to play."
Sinner and Crough Vaughan did her share to add energy and excitement to the historic event with lead jams that were a direct result of a majority of the Derby Grrls' scoring surges.
A power jam is similar to a power play in ice hockey, but unlike a power play a power jam can produce lots and lots of points.
Just such a burst of scoring occurred midway through the second half when Sinner brought the crowd to its feet with a 22-point power jam. She also provided two other double-digit power jams during the bout.
"It's just a little bit of a rush," Sinner said of her highlight blitz that left one Orlando blocker after another in her wake. "The pressure really is all on you, but that's why you compete. It's just a matter of keeping your composure."
Sinner threaded more than a few needles to stay just within both the inside and outside lines during all of her power jams.
"You go through a lot of footwork drills in practice and it pays off," said Sinner, who wears No. 313. "You have to be quick on your stops and very precise. When you approach the pack, you pick up the pace … you have to know what you're going to do to score at that point."
Crough Vaughan, one of the taller and more formidable forces on the track, admittedly likes to strike fear into the hearts of her opponents, and that philosophy paid off with plenty of points on the scoreboard.
"I don't like people to get in my way," she said of her track attitude. "I have to get them out of my way."
If Crough Vaughan, who dons No. 412 on her jersey, is the enforcer on the Cat 5's, then Gillian Sullivan aka Barbwire Gordon is the entertainer/cheerleader.
Twice after cutting off a jam with one point, Sullivan enthusiastically pointed her finger in the air to celebrate her score with her teammates as she approached the bench.
"I always like to see smiles on my teammates' faces," said Sullivan, No. 5 on the oval. "I let them know when I score. If you're not having fun, what's the point?"
Another lead jammer who made her presence felt on Saturday was Jean Hoy-Pardo, whose knack for exploiting her opponents' weaknesses kept Gold Coast close in the first half.
"Basically, it's everything to get a lead jam," said Hoy-Pardo, aka Illusion. "You look for a weak link and try to take it as fast as you can. You try to stay in their blind spots. The goal is to get them thinking you're going one way and then you go the other. It's always fun when that works out."
A loud and appreciative crowd made it a very special night regardless of the final score, and the Derby Grrls are hoping to build on that exuberance.
"Now that we have a new home, hopefully the crowds will get bigger and the word will get out that this is where the action is," Hoy-Pardo said.
That action heats up again on Saturday, April 8 as the Gold Coast Derby Grrls organization All-Stars team takes on the Big Easy Rollergirls from New Orleans.
For tickets and other information about the Derby Grrls, visit goldcoastderbygrrls.com or XtremeActionPark.com. Click to see the Full Article