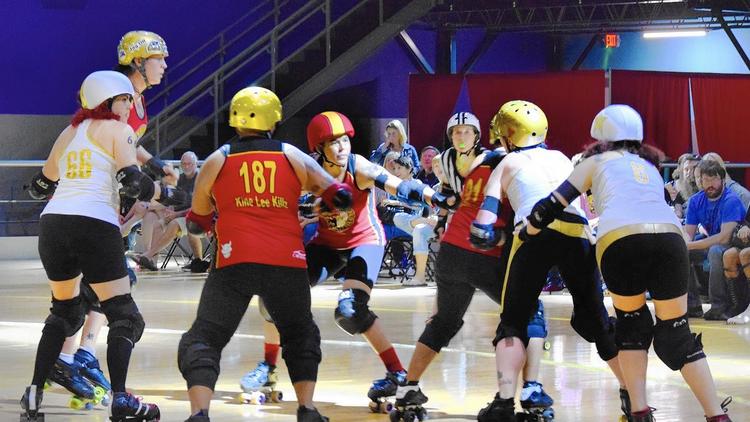 GOLD COAST DERBY GRRLS THRILL FANS AT NEW HOME
Posted April 10, 2017
by: Rick Menning
Sun-Sentinel Reporter
The Gold Coast Derby Grrls weren't about to settle for just one big jump in the latest Women's Flat Track Derby Association international rankings when they hosted a team from New Orleans on Saturday night.
The Fort Lauderdale skaters are thinking about a much-higher number when the next list of the top 300 teams worldwide comes out in early May, and those thoughts appear to be justified following a tremendous 251-71 victory over the Big Easy Rollergirls at Xtreme Action Park.
By roller derby standards, this was a rout of major proportions against a New Orleans squad ahead of them in this month's rankings.
Thrilling a standing-room-only crowd that cheered from start to finish, the Derby Grrls came through with a huge statement-making performance.
After moving up 35 spots from 182 to 147 in the WFTDA rankings released just two days Unique Monthly Visitors: 1,331,800 earlier, Gold Coast showed resolve right at the outset in the bid to keep the upward trend going.
Kayla Rae, whose track name is Anakin Skyblocker, followed an eight-point jam by Gillian Sullivan (Barbwire Gordon) with an 18-point effort to spark the Derby Grrls to a quick 26- 0 advantage. Jennifer Sinner (Sinnagunz) extended the margin to 35-0 with a nine-point run.
Those three jammers, who combined to ultimately stake their team to a 151-41 halftime advantage, used their own individual athletic strong points to break through the pack and score through numerous opportunities before intermission.
The Derby Grrls kept the good times rolling with a 22-3 burst to start the second half. That run was highlighted by Sinner's nine-point power jam.
"We all have different ways to get through the pack…Jennifer and Gillian are line trotters and I'm a pusher," Rae said. "It's all a matter of personal preference how you break out and score."
Brianna Donnelly (Breezy) used her speed and maneuvering skills to propel herself under and around the Big Easy Rollergirls' walls. Donnelly was recognized with the Most Valuable Jammer accolade during the post-bout festivities.
"I'm a smaller skater so I have to use my other abilities," Donnelly said. "I have to be faster than the blockers to get by them because I'm not always able to push through them." Sinner capped a breakout night on the track with 85 points, while Sullivan, Rae and Donnelly finished with 57 and 55 and 50 points respectively.
"It was definitely huge for us to get that boost (of scoring) in the beginning," Sinner said. "It gets everyone pumped and ready to keep it going."
While the offense was firing on all cylinders, the defense was also at its best with well developed wall formations and pivotal shutdowns of New Orleans jam attempts.
Jessie Alvarez, selected as the Most Valuable Blocker, was among those who showed tenacity in the trenches.
Annmarie Deas (Intended Anger), Kathleen Manderfield (Slampersand), Laura Cristina Garro (Carnivorous Licks) and Michelle Crough-Vaughan (Crazy Vinzer) teamed up with all the other Gold Coast forces to prevent the Big Easy Rollergirls from penetrating their defensive territory.
"(Walls) are absolutely pivotal. Walls are what it's all about in derby," said Alvarez aka Kine Lee Killz. "It's great being able to build human walls with your body and be wrecking balls when you need to be."
Alvarez explained that wall formation is in no way a simple thing to accomplish.
"There's a lot of resetting and reforming when it comes to walls," she said "The whole goal is not to let them break out, and if they do you have to re-position to not let the opposing jammer score. A lot going on, for sure."
Team captain Mary Engelman (Lucy Lunatic) helped to direct her fellow blockers in that wall formation process.
"Strong blocking is essential to hold that jammer back, and when the jammer is held it's also extremely motivating to our jammer," Engelman said. "Our jammers know they can depend on us. Everybody really filled their spots and did an amazing job."
Margo Damico, who rounded out the Gold Coast honorees with the Fan Favorite designation, emphasized the importance of competing at such a high level in front of the loud and enthusiastic fan support.
"We had to get out there and show (New Orleans) that this is our home," said Damico aka Marglodon Shark. "We're here to win, but we also want to have a great time."
Like her teammates, Damico is happy to see Gold Coast making such a dramatic jump in the rankings.
"(The 35-point move) is phenomenal. We've been working so hard," she continued. "It really does feel good to see it finally showing in the rankings."
For tickets and other information about the Derby Grrls, visit goldcoastderbygrrls.com.
Click to see the Full Article