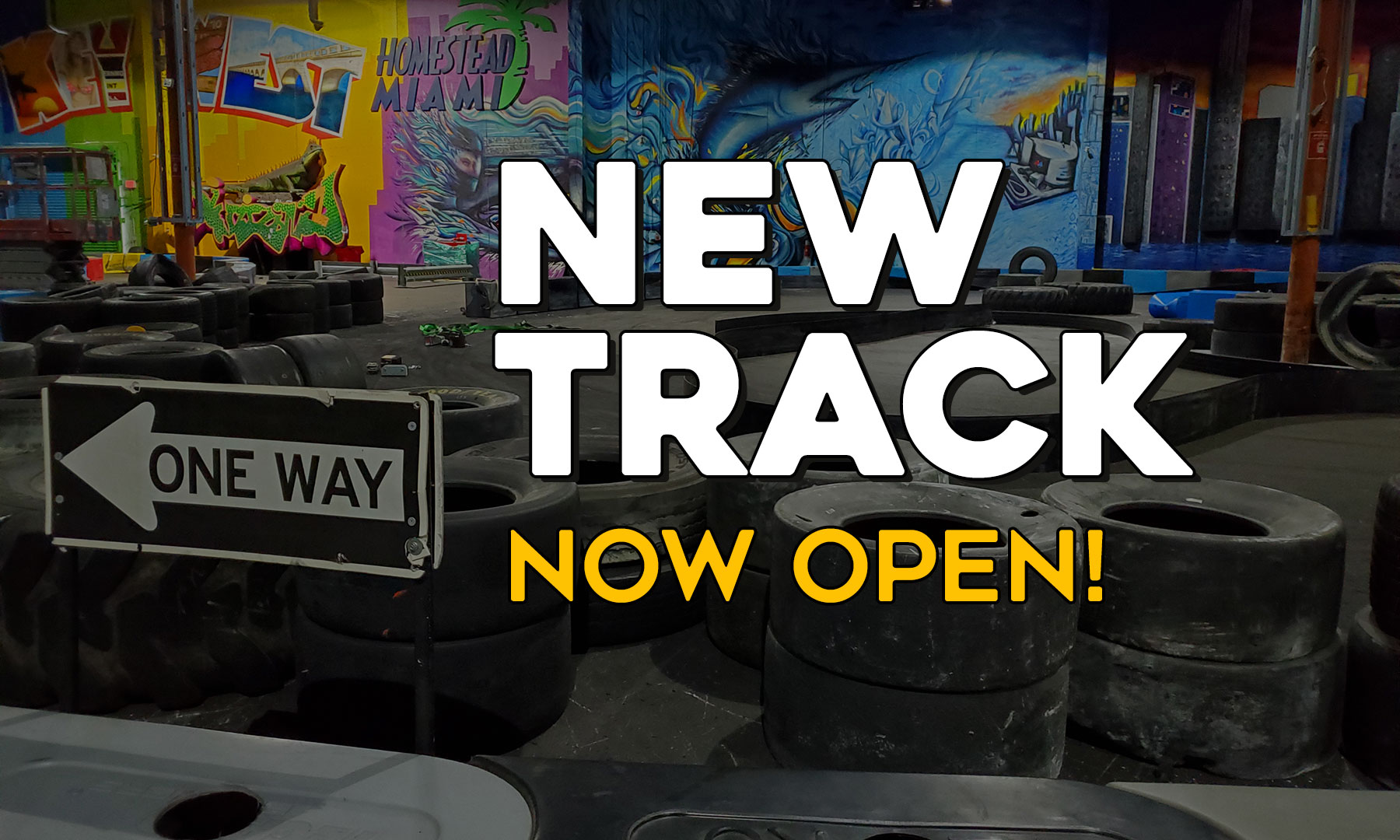 South Florida's Longest and Fastest Indoor Go Kart Track is getting a makeover! While we've all grown attached to our go-kart track, we promise, change is good. The Xtreme Pit Crew has been working tirelessly to bring you an exciting all-new, ultra-fresh, layout design for you to sink your tires into. The all new go-kart track features not one but TWO layouts:
Standard Track with thrilling new turns, chicanes, and shorter straights, this new layout incorporates a reinforced barrier and is well supported for all drivers.
Fast Track with more of an oval shape and fewer turns for easier handling for younger drivers or cadet karts. AND for those with a need for speed, the track is adaptable to accommodate even more straightaways – perfect for our soon to arrive brand new Super Kart fleet.
Now, all we need to do is set the new track time!  And a new qualifying time for our Super Kart fleet. Will you be the one to set it?  Come to the track now and see be the first to try out the all new race track.
What are the Benefits of Updating the Track?
Tweaking previous design elements to allow for increased speeds at the highest possible safety levels.
Updating worn out track walls and dividers to newer tech and builds.
Keep things fresh, exciting, and new!
Challenging our members to see who can set the best time, every time.
Made for Race Lovers
Xtreme Action Park hosts South Florida's Longest and Fastest Indoor Go Kart Track! We offer a "real" racing experience with European gas powered karts that can reach speeds up to 45MPH!  And we offer the ONLY indoor asphalt track in town to provide superior grip and handling. Grip equals speed… sliding is slow.  Plus we have the longest track too, consuming 50,000 square feet of track space! Don't wait any longer, come see the difference today!
See our Track & Karts