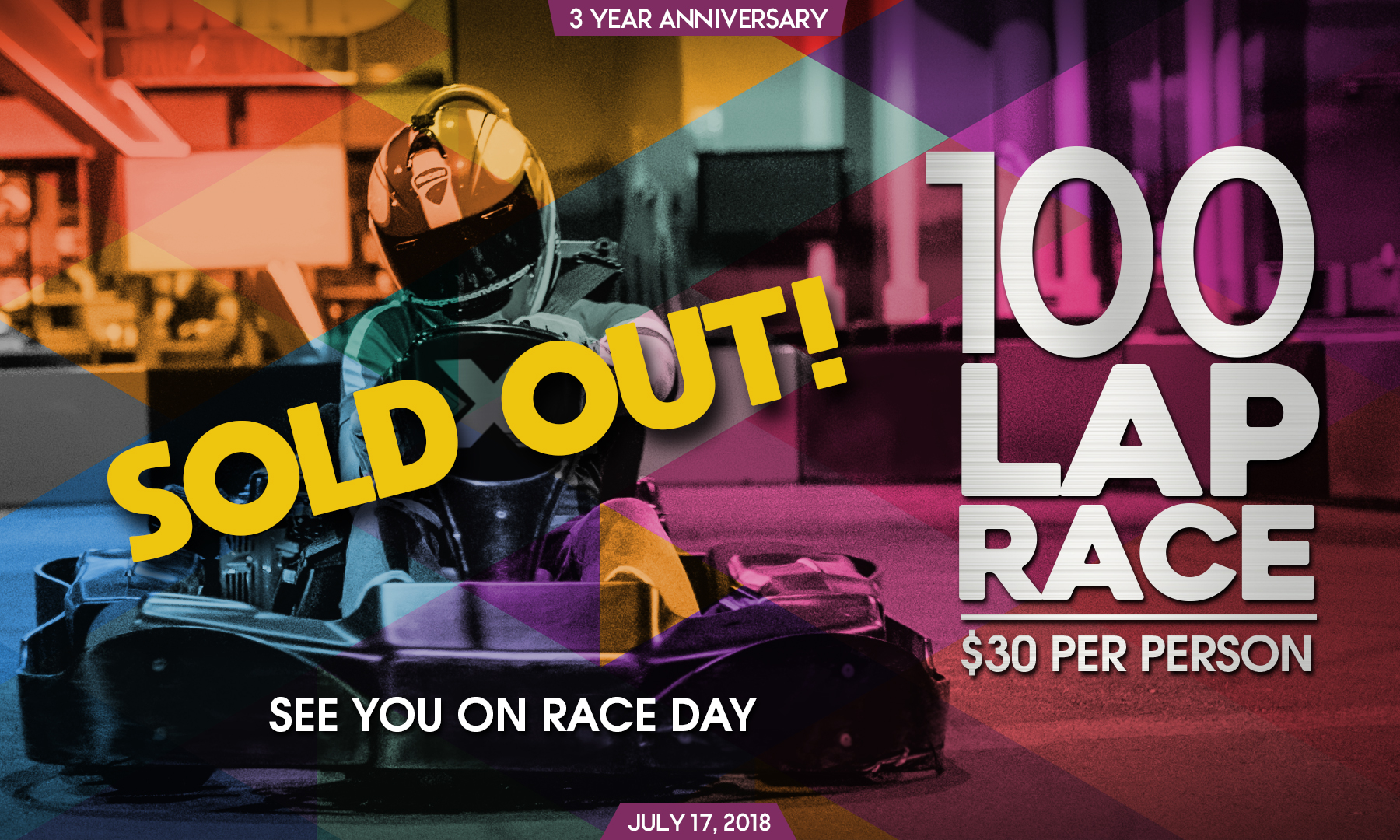 This Race is Sold Out!  Our go-kart track is by the far the most popular activity at the park and the reason we have grown so much.  We have enjoyed hosting our community and want to celebrate our Three Year Anniversary with our favorite members in a 100 Lap Race on Tuesday, July 17, 2018.
For only $30 per per person, participants will be randomly placed in teams of 3 drivers.  The race starts at 9pm and winners of the top three teams will receive race pack prizes.  All potential drivers must register and pay before the race to be entered.  30 max drivers.
The team endurance race is a Member Only Event in our Pro Karts.  Drivers must be 16 years or older to race.  Each team of three drivers will receive one kart for the race.  Then the first driver will start the race with a 10 lap qualifying, followed by a 90 lap race with two mandatory driver changes to allow each driver to participate.  Additional driver changes are not required but permitted.  Standard kart requirements and rules apply.
Prizes
Anniversary Race Prizes:
1st Prize: 5 Pro Race Bundle (x3 Team Drivers)
2nd Prize: 3 Pro Race Bundle (x 3 Team Drivers)
3rd Prize:  One Free Pro Race (x 3 Team Drivers)
Races will be automatically added to your membership profile. Non-transferable.
Schedule:
9:00pm Race Schedule
8:15pm Check-In
8:45 Race Briefing in Racer's Lounge
9:00pm 10 Qualifying Laps
9:15pm 90 Lap Race Start with Three Mandatory Driver Changes
10:00pm Race Ends
Registration
REGISTRATION IS FULL!  If you have registered online, please remember that only drivers that have paid in full will be entered into the race.  Please arrive by 8:15 to randomly select your team number before race start!
Rules:
Click the link to download our Race Rules before the race.
Celebrate with us!
Join us for our Three Year Anniversary Celebration from July 16-18, 2018.  For only 3 days, take advantage of our 3 activities for $30 special offer.  Click for more details…