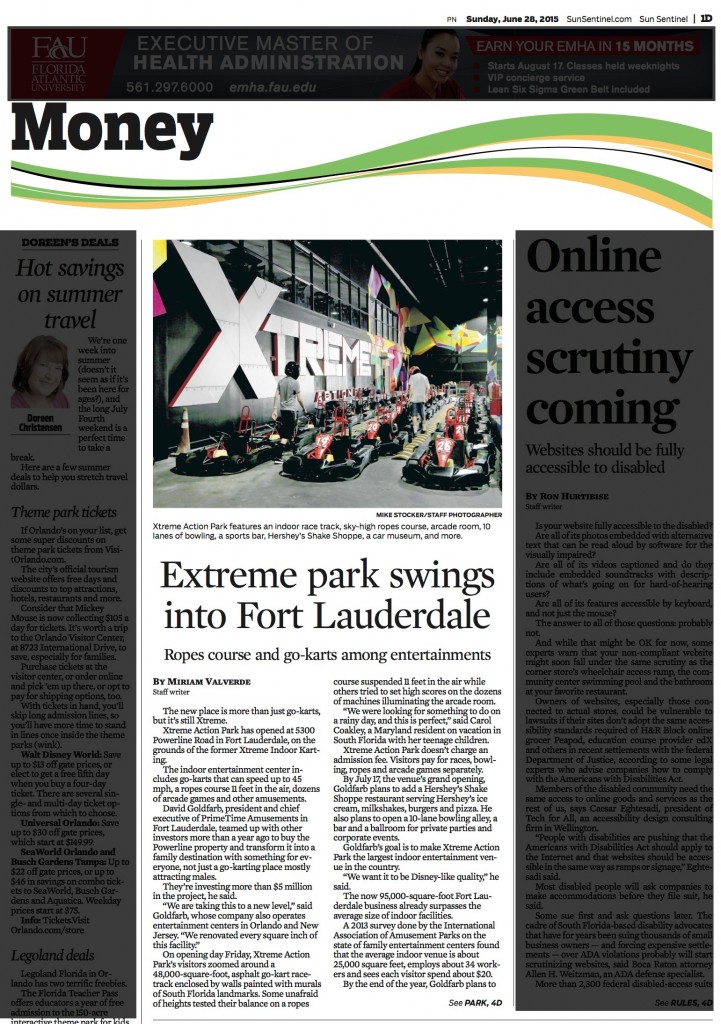 Printed June 28, 2015  – Sun Sentinel
"EXTREME PARK SWINGS INTO FORT LAUDERDALE"
The new place is more than just go-karts, but it's still Xtreme.
Xtreme Action Park has opened at 5300 Powerline Road in Fort Lauderdale, on the grounds of the former Xtreme Indoor Karting. The indoor entertainment center includes go-karts that can speed up to 45 mph, a ropes course 11 feet in the air, dozens of arcade games and other amusements.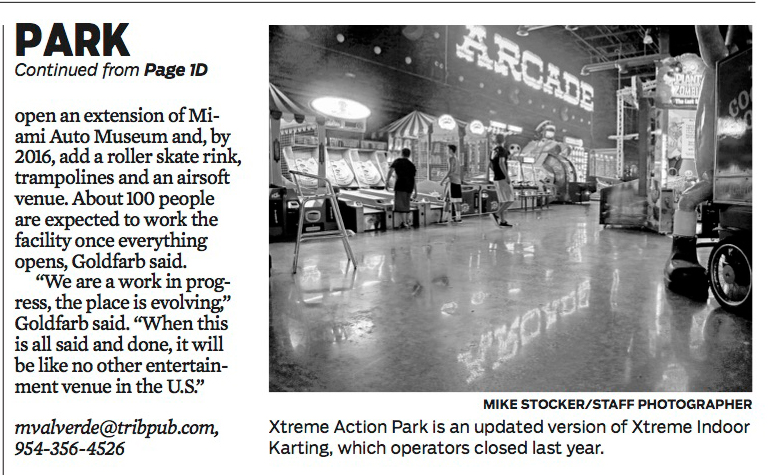 David Goldfarb, president and chief executive of PrimeTime Amusements in Fort Lauderdale, teamed up with other investors more than a year ago to buy the Powerline property and transform it into a family destination with something for everyone, not just a go-karting place mostly attracting males.
They're investing more than $5 million in the project, he said. "We are taking this to a new level," said Goldfarb, whose company also operates entertainment centers in Orlando and New Jersey. "We renovated every square inch of this facility."
On opening day Friday, Xtreme Action Park's visitors zoomed around a 48,000-square-foot, asphalt go-kart racetrack enclosed by walls painted with murals of South Florida landmarks. Some unafraid of heights tested their balance on a ropes course suspended 11 feet in the air while others tried to set high scores on the dozens of machines illuminating the arcade room.
"We were looking for something to do on a rainy day, and this is perfect," said Carol Coakley, a Maryland resident on vacation in South Florida with her teenage children.
Xtreme Action Park doesn't charge an admission fee. Visitors pay for races, bowling, ropes and arcade games separately.
By July 17, the venue's grand opening, Goldfarb plans to add a Hershey's Shake Shoppe restaurant serving Hershey's ice cream, milkshakes, burgers and pizza. He also plans to open a 10-lane bowling alley, a bar and a ballroom for private parties and corporate events. Goldfarb's goal is to make Xtreme Action Park the largest indoor entertainment venue in the country. "We want it to be Disney-like quality," he said.
The now 95,000-square-foot Fort Lauderdale business already surpasses the average size of indoor facilities. A 2013 survey done by the International Association of Amusement Parks on the state of family entertainment centers found that the average indoor venue is about 25,000 square feet, employs about 34 workers and sees each visitor spend about $20. By the end of the year, Goldfarb plans to open an extension of Miami Auto Museum and, by 2016, add a roller skate rink, trampolines and an airsoft venue. About 100 people are expected to work the facility once everything opens, Goldfarb said. "We are a work in progress, the place is evolving," Goldfarb said. "When this is all said and done, it will be like no other entertainment venue in the U.S."
– Miriam Valverde, Sun Sentinel Reporter
mvalverde@sunsentinel.com, 954-356-4526
Photo Credit: (Mike Stocker / Sun Sentinel)
Read the article online at: https://www.sun-sentinel.com/business/consumer/fl-xtreme-action-park-20150626-story.html