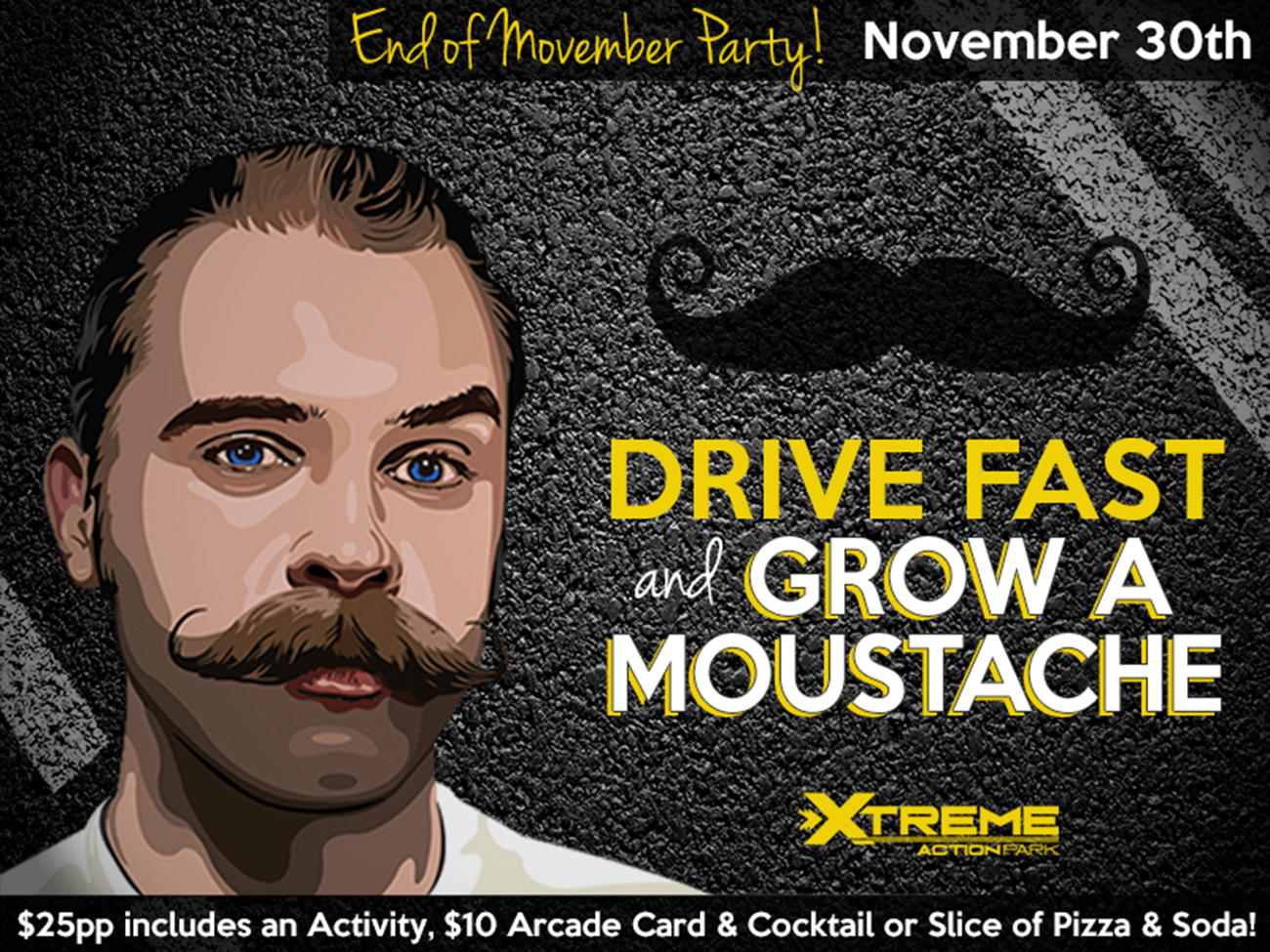 This event has expired.  Archived –
CLICK HERE for current events
South Florida's Premier Entertainment Venue Joins The Movember Foundation Movement
Fort Lauderdale, Florida (November 27, 2015) – Gentlemen, sharpen your razors! South Florida's Premier Entertainment Venue, Xtreme Action Park, is partnering with the widely recognized Movember Foundation for men's health and awareness month (formerly known as November). The Movember Foundation is a global charity committed to men living happier, healthier, longer lives. On Monday, November 30th, Xtreme Action Park will be hosting an all day End of Movember Party with a culmination of a Beard and Mustache Competition at 7:30pm.
Citrix Systems, Inc. of Fort Lauderdale will be sponsoring the End of Movember Party. In addition to their sponsorship, Citrix Systems, Inc., has pledged to match the ticket proceeds in support of men's health awareness. Tickets to the event are $25 per person and include an activity (choose from a go-kart race, a ropes course session, or a game of bowling), a $10 arcade game card and the choice of a Jameson Black Barrel Whiskey cocktail or a slice of pizza and soda. Fifty percent of every ticket sold will go directly to the Movember Foundation. The ticket is limited to one per person but multiple tickets may be purchased for guests.
"Xtreme Action Park is pleased to be a part of the Movember cause. We want to provide a fun way to educate the South Florida community on men's health. Our partnership with Citrix Systems reflects our goal to support the community and charities alike," said Elizabeth Rizzuto Sommerfeld, Sales & Marketing Director of Xtreme Action Park.
The driving force behind the event is to provide a fun opportunity to educate the community on men's health and raise funding to support projects geared towards the men's health movement. Ethan Moore, a local South Florida comedian, will be emceeing the Beard and Mustache Competition following a stand-up set. The event will also feature classic style barber shave offs for men who have participated in Movember and are looking to get cleaned up. In attendance will be the ultimate beard aficionados, The Brotherhood of Beards and Moustaches (B.O.M.B.) a non-profit beard enthusiast organization who will showcase their beards supporting Movember.
"B.O.M.B. Brotherhood of Mustaches & Beards is proud to participate in supporting Movember which supports men's health awareness at Xtreme Action Park," said Brian "Damaged" Powell, President of B.O.M.B. "We have been actively sponsoring various charities throughout South Florida since 2011," concluded Powell.
The End of Movember Party will also include local vendors. Jameson Black Barrel Whisky will be the cocktail of choice for the night with exclusive gift bags being handed out by Jameson Girls to attendees. During the Beard and Mustache Competition, a panel of judges will choose the Best Beard, Best Mustache, and Best Partial Beard.
The End of Movember Party will be a hairy situation you won't want to miss!