Math & Science Teachers Rejoice! Plan your next field trip to Xtreme Action Park and participate in the most exciting science-based experience in South Florida. Our go-karting and physics classroom sessions provide an unforgettable program featuring speed, inertia, friction, mathematics and hands-on experimentation with go karts and other science instruments.  Perfect for your STEM required programs.
A Hands On Approach to Learning… Students will learn that a car is a laboratory of force, motion, and energy and that safe driving is a skill that requires a merging of science and sharp reflexes behind the wheel. Through this program the students will get an opportunity to practice in real-life situations in go-karts – on the track!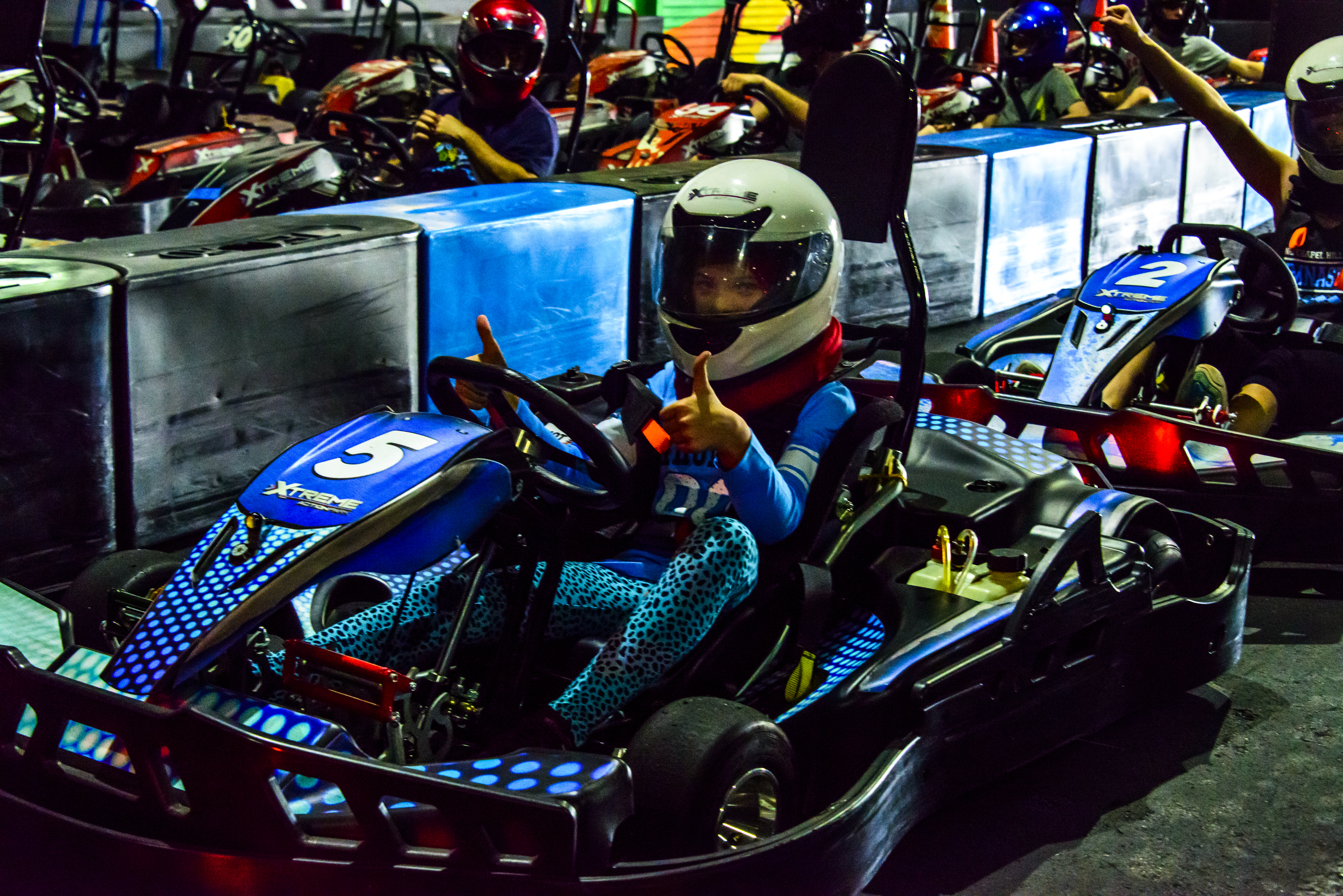 Student in a Cadet Kart ready for her hands on learning in the Science of Speed program.
A sample schedule of the program includes:
11:00am – Bus Arrival
11:15am – Classroom Presentation, Video & Pre-Test
11:45pm – Race Sessions for all Students
12:15pm – Post Race Presentation & Test
12:30pm – Lunch
1:00pm – Arcade Game Play
2:00pm – Bus Departure
Schools we have worked with:
American Heritage School (Florida)
Archbishop Edward A. McCarthy High School
Atlantic Technical College
Boyd H. Anderson High School
Chaminade-Madonna College Preparatory School
Charles W. Flanagan High School
Coconut Creek High School
Conservatory Prep Schools
Cooper City High School
Coral Glades High School
Coral Springs Charter School
Coral Springs Christian Academy
Coral Springs High School
Cypress Bay High School
Deerfield Beach High School
Blanche Ely High School
Everglades High School
Florida Bible Christian School
Hallandale High School
Hollywood Hills High School
International School of Broward
J. P. Taravella High School
Marjory Stoneman Douglas High School
McArthur High School
McFatter Technical College and Technical High School
Miramar High School
Monarch High School (Florida)
Northeast High School (Oakland Park, Florida)
Nova High School
NSU University School
Paladin Academy
Pembroke Pines Charter High School
Piper High School (Florida)
Plantation High School
Pompano Beach High School
Pompano Colored School
Sagemont School
Somerset Academy High School
South Broward High School
South Plantation High School
West Broward High School
Western High School (Davie, Florida)
Apollo Middle School
Arthur Robert Ashe Jr. Middle School
Attucks Middle School
Bair Middle School School
Coral Springs Middle School
Crystal Lake Middle School
Deerfield Beach Middle School
Driftwood Middle School
Falcon Cove Middle School
Forest Glen Middle School
Glades Middle School Miramar
Gulfstream Middle School
Henry D. Perry Middle School
Indian Ridge Middle School
Lauderdale Lakes Middle School
Lauderhill Middle School
Lyons Creek Middle School
Margate Middle School
McNicol Middle School
New Renaissance Middle School
New River Middle School
Nova Middle School
Olsen Middle School
Parkway Middle School of the Arts
Pines Middle School
Pioneer Middle School
Plantation Middle School
Pompano Beach Middle School
Ramblewood Middle School
James S. Rickards Middle School
Sawgrass Springs Middle School
Seminole Middle School Plantation
Silver Lakes Middle School
Silver Trail Middle School
Sunrise Middle School
Tequesta Trace Middle School
Walter C. Young Middle School
Westglades Middle School
Westpine Middle School Sunrise
William Dandy Middle School