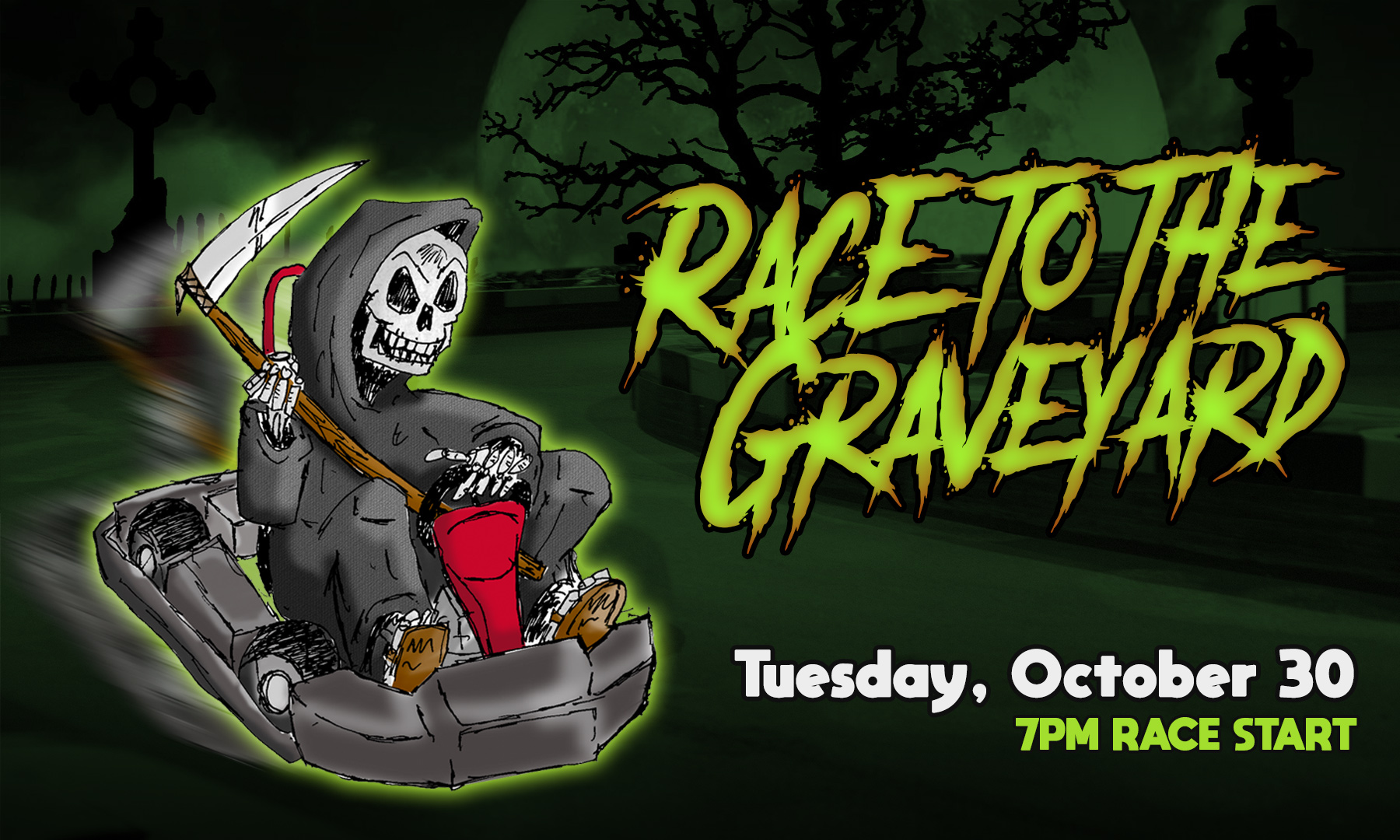 Race to the
Graveyard

returns
Race to the Graveyard is back for some spooktacular racing fun on Tuesday, October 30, 2018.   Sure, you may be a self-proclaimed racing god, but can you handle racing … in the dark?! This once a year shootout racing event is open to experienced drivers only in our Pro Karts.  Space is limited, only 44 drivers can participate in this evening event.
Entry Cost is $50 per driver and will include a 40 Lap Race and the chance to advance to a championship 20 Lap Shootout Race.  Only top 2 drivers from each race will participate in the championship race for a chance to win Xtreme Action Park gift cards.
Prizes:
1st Place = $100 Gift Card
2nd Place = $50 Gift Card
3rd Place = $25 Gift Card 
Participant Requirements:  Must be minimum 16 years old, have a valid race license and able to drive in a Pro Kart.  Only drivers with 2 or more stars on their account will be permitted to race.   Standard kart requirements and rules apply.
Racing starts at 7pm, so be sure arrive no later than 6:30 to be placed in your lap race session.
Tentative Race Schedule:
6:00pm – Check-In Starts

6:45pm – Mandatory Race Briefing
7:00pm – Race 1 Qualifying (5 Laps)
7:10pm – 35 Lap Race Start
7:30pm – Race Ends
7:35pm – Race 2 Qualifying (5 Laps)
7:45pm – 35 Lap Race Start
8:05pm – Race Ends
8:10pm – Race 3 Qualifying (5 Laps)
8:20pm – 35 Lap Race Start
8:40pm – Race Ends
8:45pm – Race 4 Qualifying (5 Laps)
8:55pm – 35 Lap Race Start
9:15pm – Race Ends
9:20pm – 50 Lap Race Finale