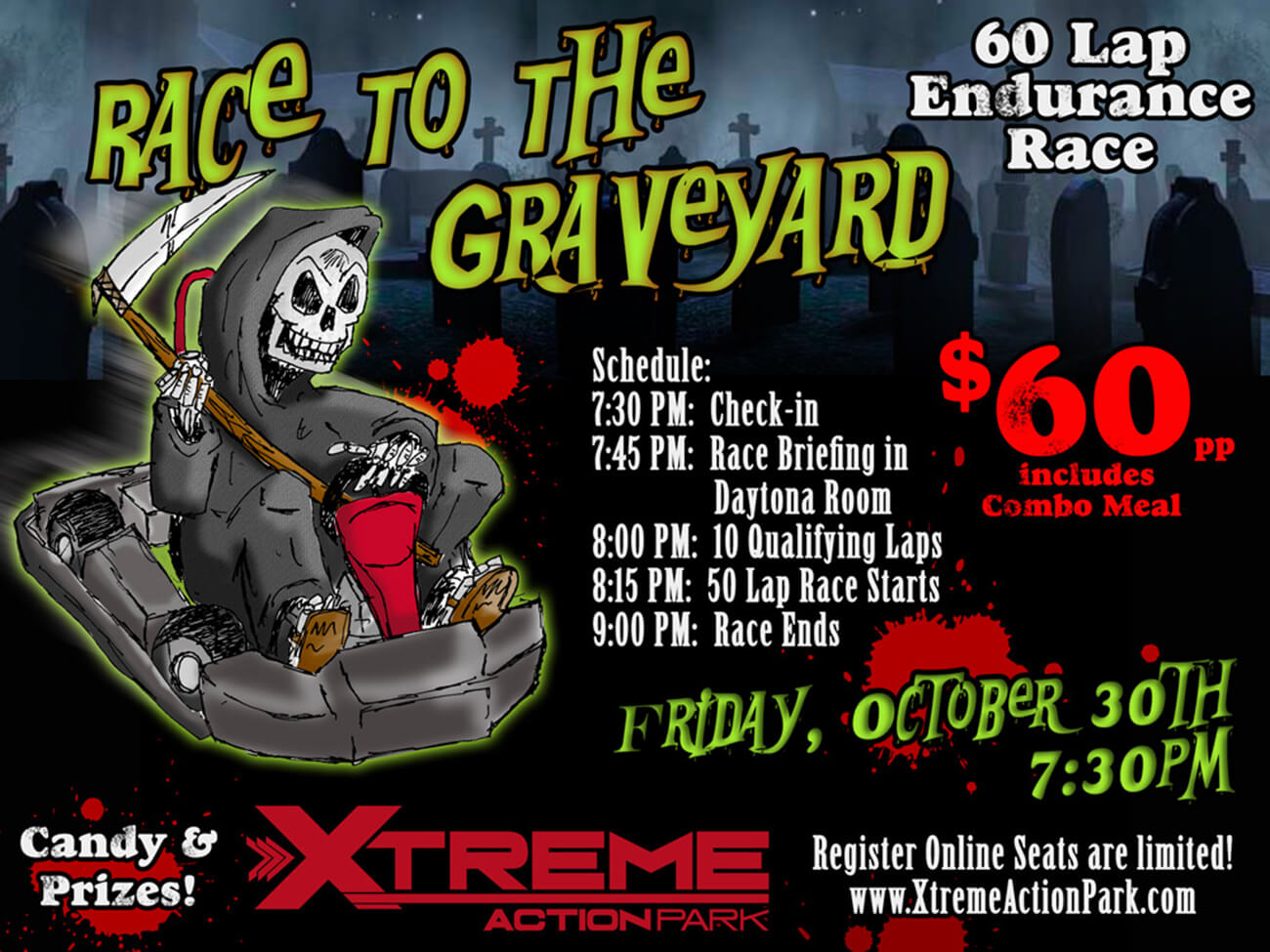 This event has expired.  Archived –
CLICK HERE for current events
Join us for a thrilling night of racing at our Race to the Graveyard – 60 Lap Pro Kart Endurance Race.  Only $60 per person includes a 60 lap race, prizes for 1st, 2nd & 3rd Place, Candy and a Combo Meal Ticket after.  This race is limited to 15 drivers so register now to reserve your seat.  Additional drivers will be added to a wait list as we may add another race after 9pm!
Combo meal includes 2 slices of pizza and a fountain soda or all beef hot dog with chips and a fountain soda.  Prizes are 3 Race Pass to 1st place, 2 Race Pass to 2nd Place and 1 Race Pass to 3rd Place.  Stop by any attraction to receive free candy treats!  The endurance race is a Member Only Event.
Registration is now closed.  But please come in to watch the race or Sign Up for the Wait List at Guest Services in the event of "No Shows" .
Check for your race time below:
7:30 Race Schedule
7:30pm Check-In
7:45 Race Briefing
8:00pm 10 Qualifying Laps
8:15pm 50 LapRace Start
9:00pm Race Ends
9:30 Race Schedule:
9:30pm Check-In
9:45 Race Briefing
10:00pm 10 Qualifying Laps
10:15pm 50 LapRace Start
11:00pm Race Ends
| Race Time | Name |
| --- | --- |
| 7:30 | Gloria Bocyck |
| 7:30 | Jon Pellnitz |
| 7:30 | Brandon Huntley |
| 7:30 | Anthony Ospino |
| 7:30 | Luis Fernandez |
| 7:30 | Chris Watkins |
| 7:30 | Ryan Scupp |
| 7:30 | andre filho |
| 7:30 | leonardo guerra |
| 7:30 | lucas guerra |
| 7:30 | Robert Ramirez |
| 7:30 | Donovan Conley |
| 7:30 | Jeferson santos |
| 9:30 | Jeferson Santos |
| 9:30 | Matthew Del Sol |
| 9:30 | Marcus Petersen |
| 9:30 | tony pereira |
| 9:30 | joshua baskin |
| 9:30 | tony pereira |
| 9:30 | Vincent Cabrera |
| 9:30 | Henrique Pocaterra |
| 9:30 | John Petrello |
| 9:30 | Nicolas Mabru |
| 9:30 | Regis Silva |
| 9:30 | Tyler Knight |
| 9:30 | sterlin perkins |