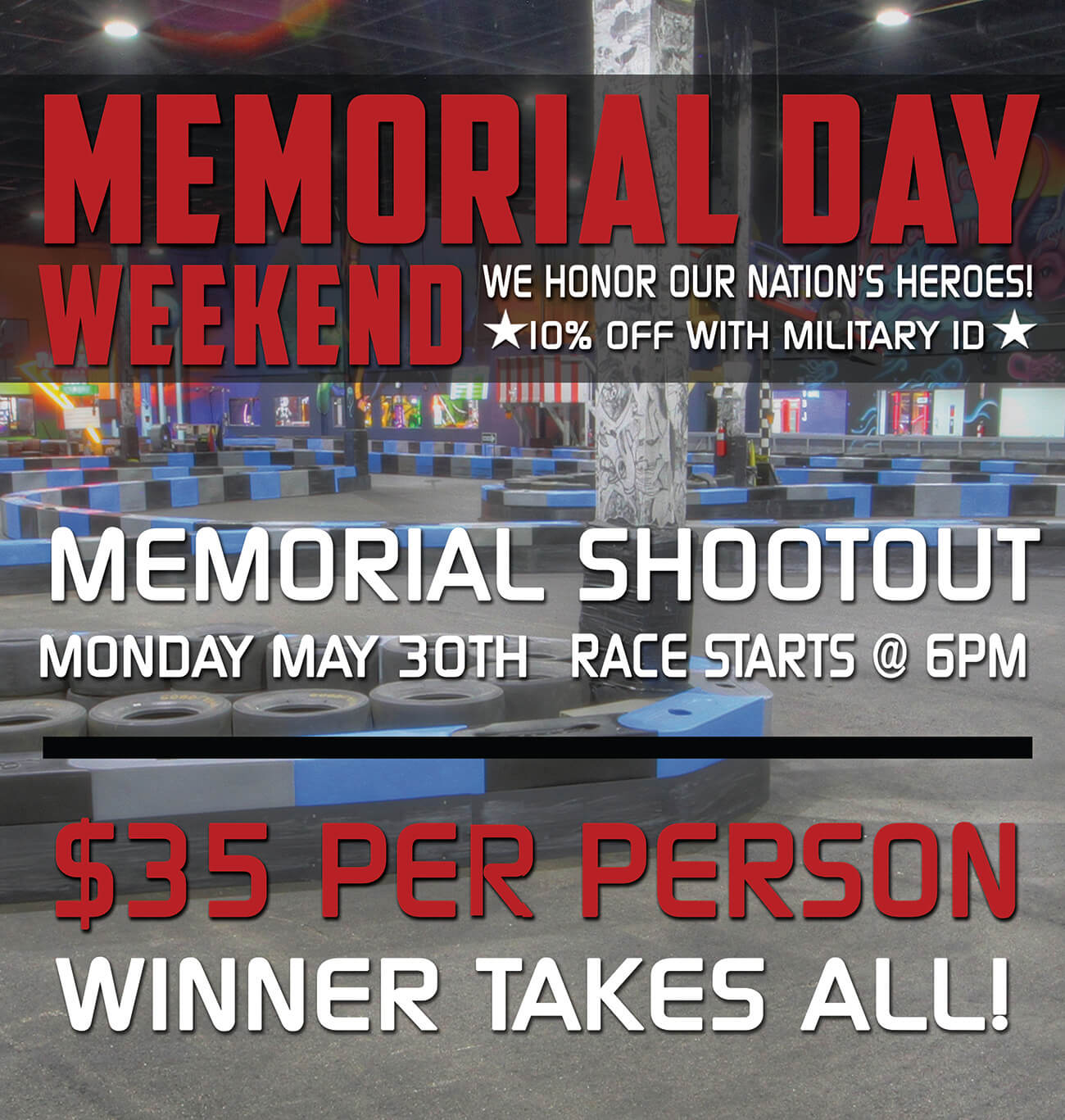 This event has expired.  Archived –
CLICK HERE for current events
Are you ready to Race?  Join us this Memorial Day for our first Shoot Out Race event.  Each participant will qualify on our indoor asphalt track to enter the final race where Winner Takes All!  Cash prize based on participants so be sure to bring your friends!!
Only $35 per person includes one qualifying 25 lap race and Meal Combo.  Plus a chance to enter the Shoot Out and win a Cash Prize!!*
Participant Requirements:  Must have a valid race license and drive in our Pro Karts.  Standard kart requirements and rules apply.
Race Format: All drivers will participate in a 5 Lap Qualifier and a 20 Lap Race. The top 3 Drivers from each heat will move forward to the 15 Lap Shoot Out. * Prize will be based on the number of drivers participating multiplied by $10.   WINNER TAKES ALL! 
6:00pm Race Schedule
5:30pm Check-In
5:45 Race Briefing in Racer's Lounge
6:00pm 1st Qualifying Lap Race with up to 12 Drivers
6:25pm 2nd Qualifying Lap Race with up to 12 Drivers
6:45pm 3rd Qualifying Lap Race with up to 12 Drivers
7:15pm MEMORIAL SHOOT OUT RACE!
Register and using the form below.  Please note, there are only 9 karts left for this race.  Payments for today can be made at Xtreme.
Please arrive by 5:30 to make race start!
Meal Combo Options:  Burger, Fries & Beer or  Hot Dog Fries & Beer.  Fountain Soda can be substituted for draft.
Flags:
Green: Start of the race. Used during starts and restarts.
White: One lap remaining.
Checkered: End of race. Drivers need to slow down and enter pits after a single cool down lap.
Crossed Checkered & White: Signals the halfway point of race.
Yellow: Caution flag used for local incidents only. Drivers need to be aware of incident, and not pass. It does not mean that drivers need to slow down, but must be careful when passing incident.
Blue w/ Orange or Yellow stripe: A standing blue will warn the driver that faster traffic is approaching behind; moving over is not yet required. A waiving blue w/ orange stripe flag signals that a driver is now required to move over and let the faster traffic by.  This will only be given for 1st, 2nd, & 3rd, place drivers to pass.
Pointed Black: Only given at the start/finish, and may be accompanied with a sign informing the driver of the infraction. Warning only.
Black: A waiving black will be given to a driver being penalized with a lap deducted.
Penalties
The following penalties will be given either during or after a race to promote clean racing and good sportsmanship. The rules and penalties are in place to protect the drivers and the karts.
Incident- bump pass, push pass, pinch-off, excessive contact during pass
Penalty- waiving black (deduct 1 lap)
Incident- contact that makes driver lose significant positions or time, ignoring blue flags, excessive contact during race.  Penalty- waiving black (deduct 1 lap) Incident- blocking, illegal defensive move
Penalty- a single warning (rolled black), black lag (deduct 1 lap)
Incident- on track retaliation
Penalty- waiving black (Which could result in disqualification, and removal from race)
Incident- Unsafe driving such as excessive sliding or spinning out
Penalty- Varies, but may result in removal from race (waiving black)