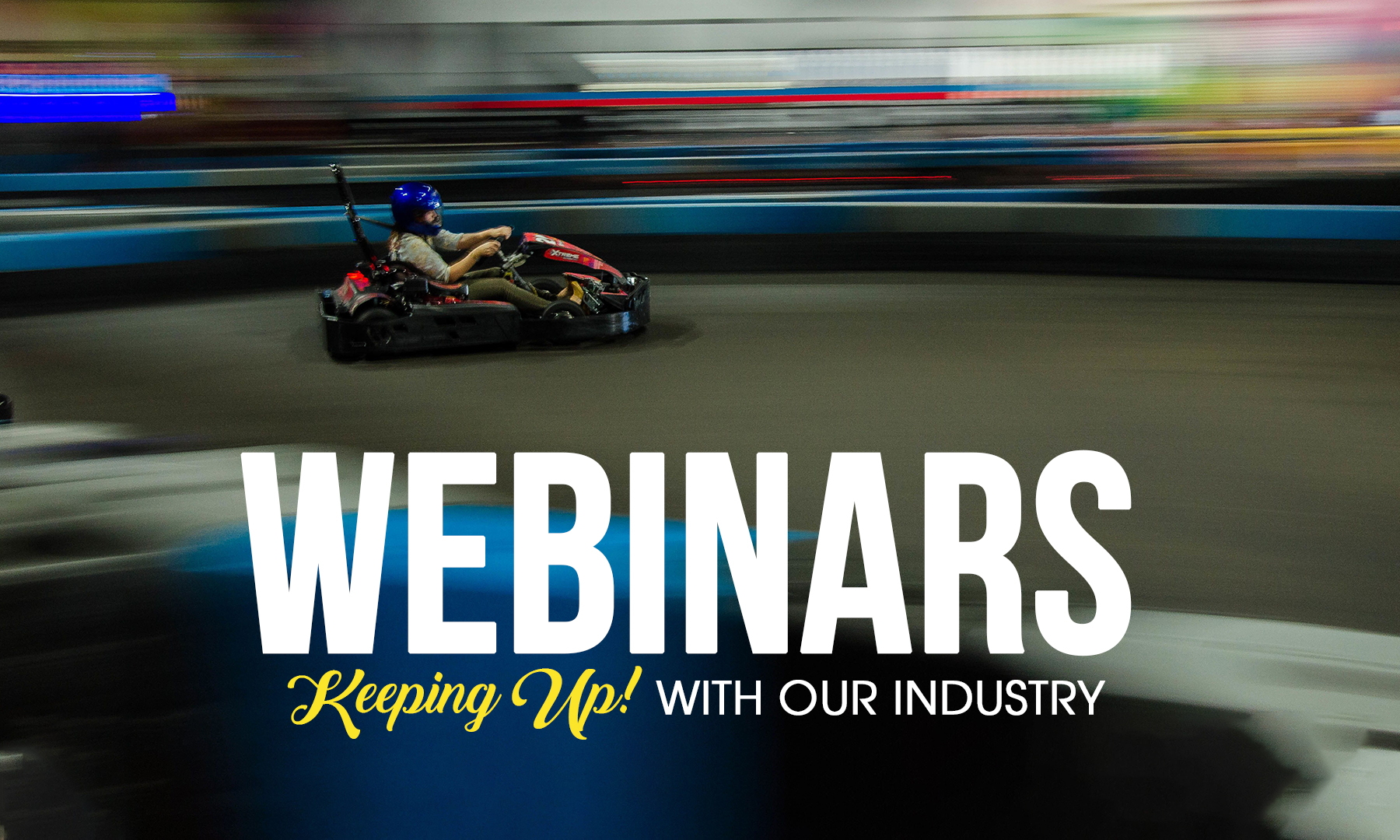 Webinars Keeping up with our Industry
Webinars and industry updates on finding the new normal during the COVID pandemic for our friends in the Hospitality, Entertainment and the Attractions Industry. We are working hard to keep our team employed, our business viable and everyone together all while keeping our guests safe. Many of our peers and industry associates have garnered valuable insight to new trends, business ideas and just simply cool ways to keep it all together. Here, in these webinars, we have had an amazing opportunity to share what we have learned during the COVID-19 pandemic. Let this be a positive moment in our time of uncertainty.
Feel free to watch and share with others. We truly hope this helps educates our guests, community peers and industry leaders. Let's continue to help each other!
ATTRACTIONS HAVE REOPENED PART 2
Webinar recorded June 10, 2020 with Gateway Ticketing Systems.
Summary: We continued discussions with attractions that have reopened about what has worked well, what mistakes they made, what was expected, and what has surprised them during their first few weeks of re-operating. This week our panel included:
Hosted by Randy Josselyn, Steve Bell and Matt Hoenstine.
Panelists: Elizabeth Rizzuto, Marketing Director at Xtreme Action Park
Jose Espinosa, Manager, Admissions & Guest Relations & Member Services at Fort Worth Zoo
WE'RE OPEN – HERE IS WHAT IT LOOKS LIKE
Webinar recorded Tuesday, June 30, 2020 with the American Amusement Machine Association (AAMA)
Summary: Join AAMA for our webinar series tackling the challenges our industry is facing due to the COVID-19 pandemic.
PANELISTS: Darren DesRoches – GameWorks, Inc. Elizabeth Rizzuto – Xtreme Action Park MODERATOR: Pete Gustafson – AAMA
HOSPITALITY & TOURISM – THE NEXT STEPS
Webinar broadcasted July 10, 2020 with Florida Atlantic University College of Business
Summary: A conversation focused on hospitality and tourism experts on reopening tactics, their next steps for the upcoming year and short-term and long term changes in the industry moderated by Peter Ricci, Director of Hospitality Management at FAU with hospitality leaders.
Peter Ricci, FAU College of Business; Kelly Cavers, Senior Vice President, Group Sales and Destination Services at Discover the Palm Beaches; Heiko Dobrikow, Executive Vice President & General Manager at The Las Olas Company/The Riverside Hotel; Chris Esposito, General Manager of South Florida at Hello! Destination Management Company; David Hoenemeyer, Chief Operating Officer at Seminole Gaming; Edd Karlan, Director of Sales & Marketing at Chateau Elan Wintery & Resort; Elizabeth Rizzuto, Marketing Director at Xtreme Action Park; Danielle Rosse, Owner of OCEANS 234; Donelle Zunker, General Manager at Fort Lauderdale Marriott Harbor Beach Resort & Spa
FLORIDA ATTRACTIONS UPDATE
Webinar recorded July 30, 2020 with the Florida Attractions Association
Summary: FAA Attraction Members Discuss Operations During the COVID-19 Era
Discussion facilitated by FAA Chairman Matt Johnson, Executive Director of The IMAG History & Science Center
PANELISTS: Jennifer Green, Liberty Partners of Tallahassee; Cindy Stavely, St. Augustine Pirate & Treasure Museum; Mark McHugh, Gatorland; Scott Rose, ZooTampa at Lowry Park; Brynne Anne Besio, The Bishop Museum of Science and Nature; Jennifer Berthiaume, Lion Country Safari; Elizabeth Rizzuto, Xtreme Action Park; Mary Stella, Dolphin Research Center; Diana Vega, Zoo Miami; Matt Johnson, IMAG History & Science Center.
LEISURE VIRTUAL WEBINAR SERIES: FAMILY TRAVEL
Webinar recorded August 20, 2020 with Greater Fort Lauderdale
Summary: Join Visit Lauderdale's Global Leisure Sales team for a series of inspirational virtual trainings on where to "Stay, Play & Dine" in Greater Fort Lauderdale, featuring live Zoom presentations from select partners.
In this episode, we're focusing on Family Travel and will be covering:
– Fort Lauderdale Marriott Pompano Beach Resort & Spa
– Margaritaville Hollywood Beach Resort
– Museum of Discovery and Science
– Xtreme Action Park
– Jaxsons Ice Cream Inc
– The Mai-Kai Restaurant
BEYOND THE FRAME
Webinar broadcasted August 21, 2020 with Dottie San Martin, Qubica AMF
Summary: A casual conversation sharing details on Xtreme Action Park's Day Camp. Plus inspiration for those other FEC's and bowling centers on how to re-open safely.