MSD Eagle Day at Xtreme Action Park
Watch the Video – Share with your Friends!
On April 23rd, we invited MSD faculty and students to join us for a very special, Eagle Day at the Park. Our goal was to provide the students with a day of fun where they could unwind and, well,  just play…
With several partners and our vendors, we were able to close the park for the evening and only MSD faculty and students were invited to attend – not even parents were allowed! Our focus was for this amazing group of students to create positive memories and further forge the friendships they have built.  Students were offered complimentary access to all of our activities, including some from our partners and included free pizza, ice-cream, fountain drinks, and a souvenir Xtreme Eagle Day T-shirt.  They also had special appearances by DJ Immortal from The Shark Radio, who lit up the roller rink all night, and meet TD the Dolphin and Billy the Marlin.
Our friends helped in a BIG WAY: Coca Cola provided complimentary soft drinks, Gordon Foods provided pizza, Mini Melts offered free ice cream from their vending machine, Titan MMA provided video services, Hard Knocks had some MMA meet and greets by the gym, MSD Basketball Team brought in some basketballs for the indoor courts, Rockin' Jump Trampoline offered socks and free play in the park, South Florida Ford brought in a photo booth for keepsakes, Lyft provide complimentary rides to and from the park, Fort Lauderdale Police Department rotated 8 volunteer officers, Mobilizing MSD provided amazing and patient volunteers to check everyone in, PrimeTime Amusements set the arcade to free play, Biscayne Bay Brewery provided complimentary products to the faculty, Pride Parking offered free Valet for the night, and Xtreme Action Park hosted all of the activities including Go Karts, Bazooka Blast, Roller Skating, Ropes Course, XD Theater and coordinated the entire event!  What an amazing night for everyone…
Our whole team was thrilled to see big smiles on everyone's faces. It was truly an honor to be able to provide MSD with this day of fun. THANK YOU again to all of our Partners, Sponsors, and Volunteers who helped make this day happen. We couldn't have done it without you!
Eagle Day Photos
Download you favorite Eagle Day pics!
Activities Included:
Arcade Video Games
Go Karting
Bowling
High Ropes Course
XD Dark Ride Theater
Open Basketball Courts
Bazooka Blast
Roller Skating Rink
Trampoline Park
Escape Rooms
Plus,
Each participant received a complimentary 2 Slice Pizza and Soda combo and a scoop of Hershey's Ice Cream or Mini Melt dessert. As well as discounted transportation by Lyft.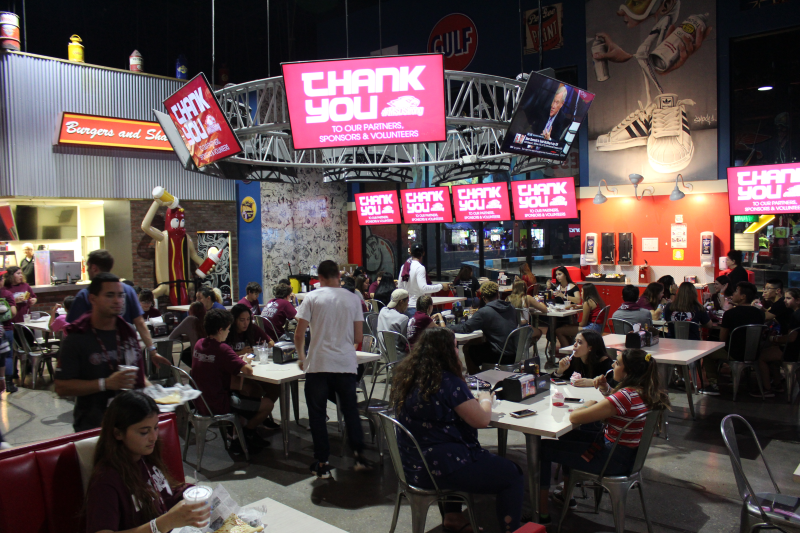 THANK YOU to our Partners, Sponsors and Volunteers who helped make this day happen!
MSD Mobilizing Alumni
Coca-Cola
South Florida Ford
Biscayne Bay Brewery
Entercom Radio
The Shark Radio
DJ Immortal
Pride Parking
Mini Melts Ice Cream
Gordon Food Service
PrimeTime Amusements
Rockin' Jump Trampoline Park
Dezer Auto Museum
Lyft
Fort Lauderdale Police Department
Titan FC
TD the Miami Dolphin
Billy the Miami Marlin