NOW OPEN! Evolution Escape Rooms is the only escape game facility in Florida to bring you an all-new experience in virtual gaming – Virtual Reality Escape Rooms. This brand new attraction is located inside the lobby of Evolution Escape Rooms within Xtreme Action Park.
Choose from several *Full-Feature Rooms: explore outer space, conquer a dragon, journey through a haunted hospital, or discover treasure in the depths of the ocean. Our Virtual Reality Escape Games are multi-player, un-tethered, and fully immersive to help promote teamwork, communication, and fun. Whether you are looking for a fun night out with friends, to celebrate a special occasion, or a unique corporate event, virtual reality escape rooms are an experience that is out of this world!
*Length of game varies based on skill level.
You're not just Playing the Game. You're in it.
Introducing the Escape Room of the future with Virtual Reality. Travel through outer space, dive the ocean depths, slay evil dragons, or RUN FOR YOUR LIFE! The impossible becomes reality with VR.
This isn't your smartphone's virtual reality. Just like with our physical escape rooms, we offer the most advanced technology in our virtual games. Each player wears a VR headset through which they can see, interact, and communicate with their teammates both, in real time, and in their chosen 3D virtual dimension.
Using hand held controllers, you can interact with your virtual surroundings by grabbing and moving objects to solve the game's puzzles. Wireless Virtual Reality backpacks allow players to walk freely around in the gaming space, creating a more realistic virtual experience.
SEE INSIDE SPACE STATION TIBERIA
"This is Commander Butler with Mission Control… You're moments away from docking with Earth Meteor Defense Platform Tiberia, which has recently been crippled by an intense radiation storm. Time is of the essence so let's review the mission parameters:
The largest meteor humanity has ever encountered is en route to earth. In 35 minutes it will impact the station; 10 minutes after that it will end life as we know it. We need you to restore functionality to the station before that happens. Good luck Astronauts, and Godspeed."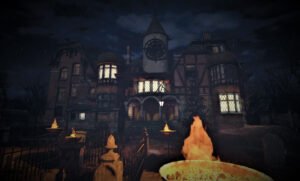 Manor Escape

Our most challenging VR Escape Room yet!
NEW – Dodge evil experiments with dangerous creatures in this creepy manor. It's up to you to get inside, investigate — and make it out alive!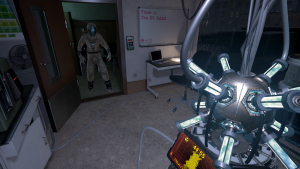 Time Travel Paradox
Launch your team into a voyage across the ages in order to stop an evil mastermind. Don't get distracted by the beauty of pre-historia or the ravaged dystopian cityscape… time is of the essence! The only way to control time is to understand it! Can you escape?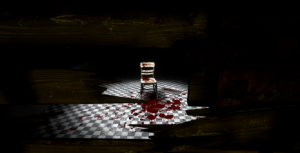 HOSPITAL OF HORROR
(Available only in October) You and a friend will put on the latest in VR technology and enter the abandoned hospital. Walk the halls of an abandoned hospital – but watch out, you never know what (or who) is around the next corner. Through the power of virtual reality, anything is possible. It's so real…it's scary!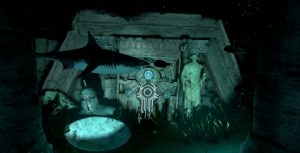 DEPTHS OF OSIRIS
Dive deep below the ocean surface with your team of explorers to uncover an ancient temple. In it you will find beautiful sealife, treasures, and a few more things that aren't quite as pleasant! As the placid undersea world begins to turn on you, will you be able to escape?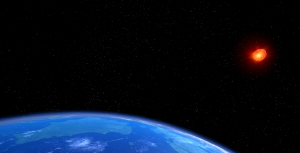 SPACE STATION TIBERIA
Hurtling through orbit, Space Station Tiberia is on a mission to intercept a 'planet killer' meteorite on a collision course with earth mere hours from now. Moments ago the station was struck by an intense radiation storm. Restoring functionality to the station and the anti-meteor laser array is the only thing between the human race and complete extinction.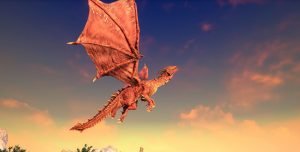 DRAGON TOWER
An evil alchemist, a hungry dragon. Hardly the town for a few hapless travelers! Accused of a crime you didn't commit, you must find a way to escape your prison before you meet your fiery fate.