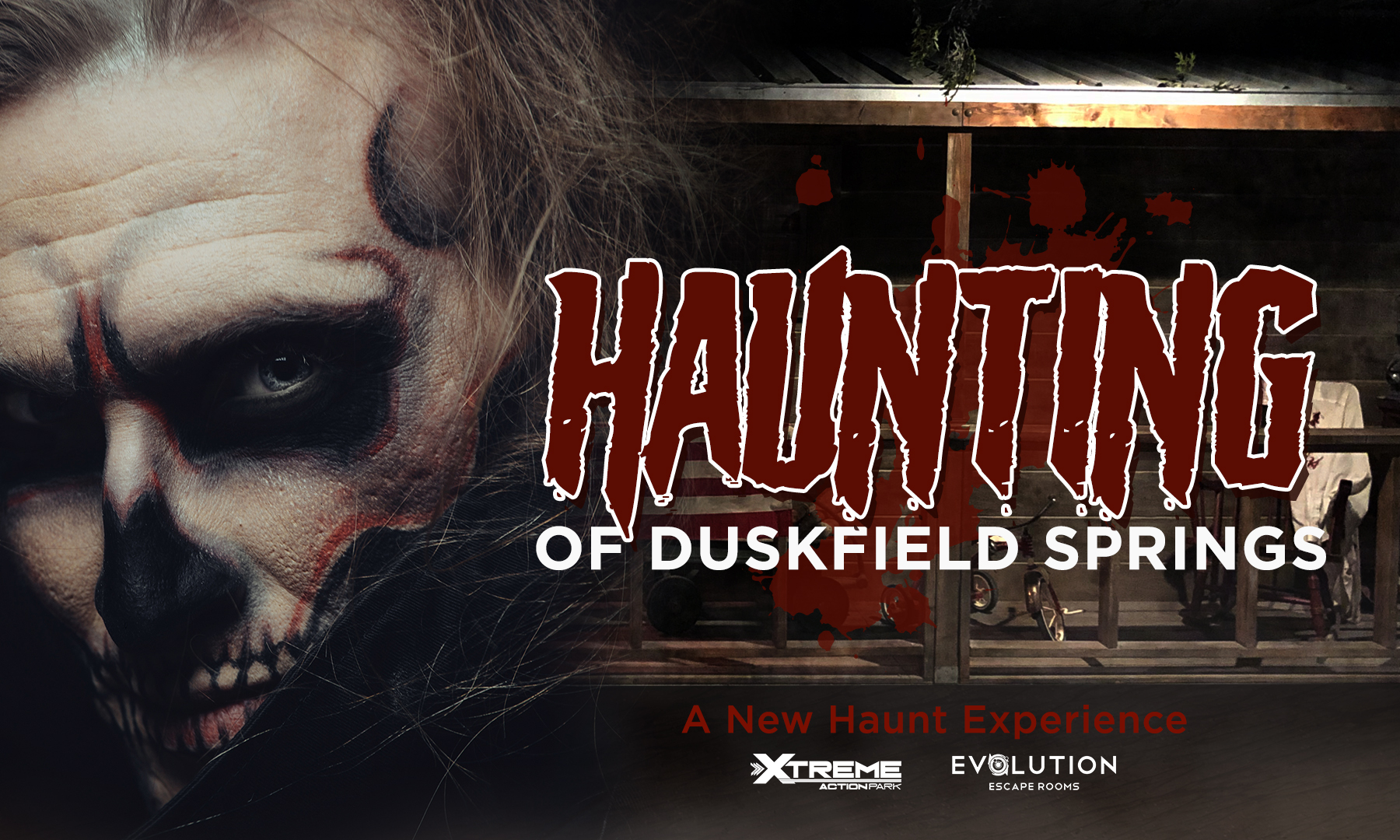 Haunted House: Haunting of Duskfield Springs
Encounter creepy strangers, killer clowns, zombies and more freakish delights as we unveil a new Haunted House inside Xtreme Action Park – Haunting of Duskfield Springs.
Bring friends, family or anyone who enjoys a good fright to our newest Halloween attraction! Scares and excitement await inside Evolution Escape Rooms, our popular escape room attraction. By working with the creative design team of a popular local haunted attraction, we have transformed this already mystical space into a thrilling, horrifying and heart pounding walk through experience.
Tickets
$30 per person.
Max 6 guests can enter at one time.
Buy Tickets
Recommended for ages 13+. Parental discretion advised. Plus sales tax.
Guest will check-in outside Evolution Escape Rooms.
Face mask will be required and all participants must follow social distancing guidelines at all times. Maximum of 6 guests can enter at one time.
Hours
Available for 5 weekends in October!
Thursday: 7pm-10pm
Friday: 7pm-11pm
Saturday: 6pm-11pm
Sunday: 6pm-10pm
Halloween Night: 3pm-Midnight
Park hours will be 11am to 12am on Saturday October 31, 2020.
Ticket Disclaimers: Not recommended for children under 13. Parental discretion advised. All participants must sign a waiver. Minors must have a signed parental waiver to enter. All minors must be escorted by an adult. Max 6 guests to enter at one time. All participants must wear a face mask and follow social distancing protocols.
NO REFUNDS. No exceptions. You must check in 15 minutes prior to your scheduled time. Please note, there may be long lines to enter the Park because of our enhanced safety protocols and procedures. Please plan accordingly.
What is Duskfield Springs?
The small town of Duskfield Springs is the premise story line of our popular Evolution Escape Rooms inside Xtreme Action Park. Duskfield Springs hosts many small town features such as a local diner (Dine in at Dusk), cabins in the woods (Geneva Trail) for local folks to reside and the secret war bunker (Two Thirty Nine) that holds many of the town's early secrets.
This quiet town has now been transformed to offer an exciting walk through Haunt Experience for guests to enjoy this October 2020! Evolution Escape Rooms will still be available for booking on select dates and times during October. Learn more…