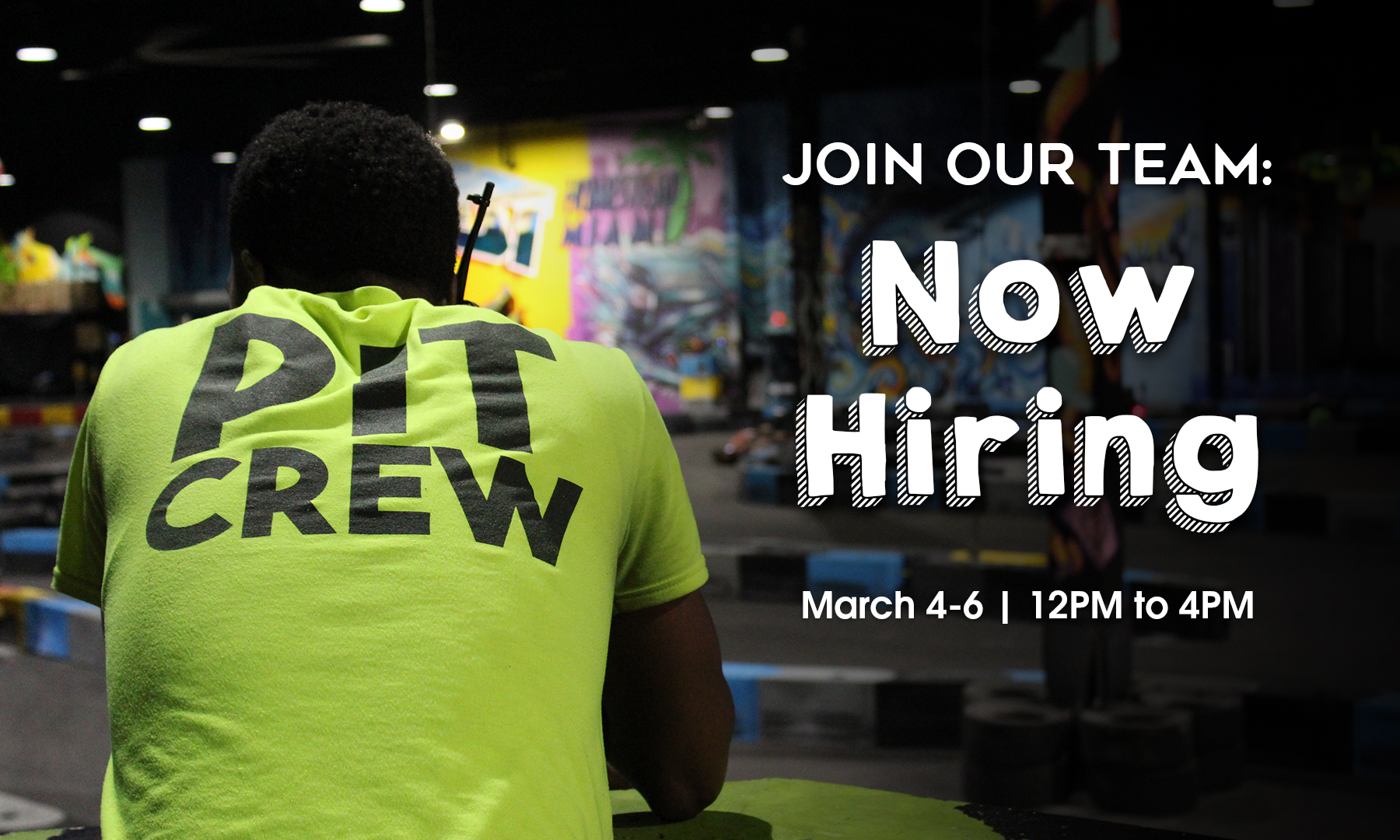 Join our Team!
Apply in person at our next Job Fair
March 4-6, 2019 from 12pm to 4pm.
Xtreme Action Park is always looking for motivated employees who are dedicated to working as a team and have a positive attitude. Download our Job Application today and submit it anytime by email or bring to the Park.
Please Note:  We will only respond to online requests if your resume matches an available position.
These are samples of some job opportunities available at Xtreme Action Park:
Track Marshal – Our track marshals are the point of contact for almost every person that comes out to race. They are the support on the track and help to keep our racers briefed on the rules and regulations of karting. They also help to monitor the safety of those who are racing. For those who love racing and are willing to work on a great team, this may be a great fit for you.
ShakeShoppe/Restaurant – With great food and soft drinks, our guests need to be refreshed. Our restaurant team helps to provide the much needed fuel for our customers. If you love working around food, this is a great spot for you.
Guest Services – Our point of sales team are the first people you see when you walk into Xtreme. They explain our current rates for racing, arcade games, and much more. These friendly faces provide you with helpful information to make your experience a memorable one. If you are energetic and love helping people, this is a great team to be a part of.
Arcade/Admission/Redemption – We are always looking for enthusiastic young adults who want to be in the entertainment industry because it is so exciting. This is a great way to get started!
Sales Team– Do you like corporate networking? Do you like to have the security of a draw but know that you have the ability to grow through commissions? Yes! Well, Xtreme is always looking for sales people who are ambitious. Our sales team sells corporate events but they are really selling fun!!! Need there be more to say?
Facility Porter – Being the largest indoor venue, we need a reliable crew to help keep it sharp.  For this, we need reliable personnel who take pride in the details.
Bartender
Party Server/Hostess
Job Inquiry
Ready to start?  Complete this short inquiry form to send your resume to a manager today.  If a position is available, we will contact you via email for an interview.