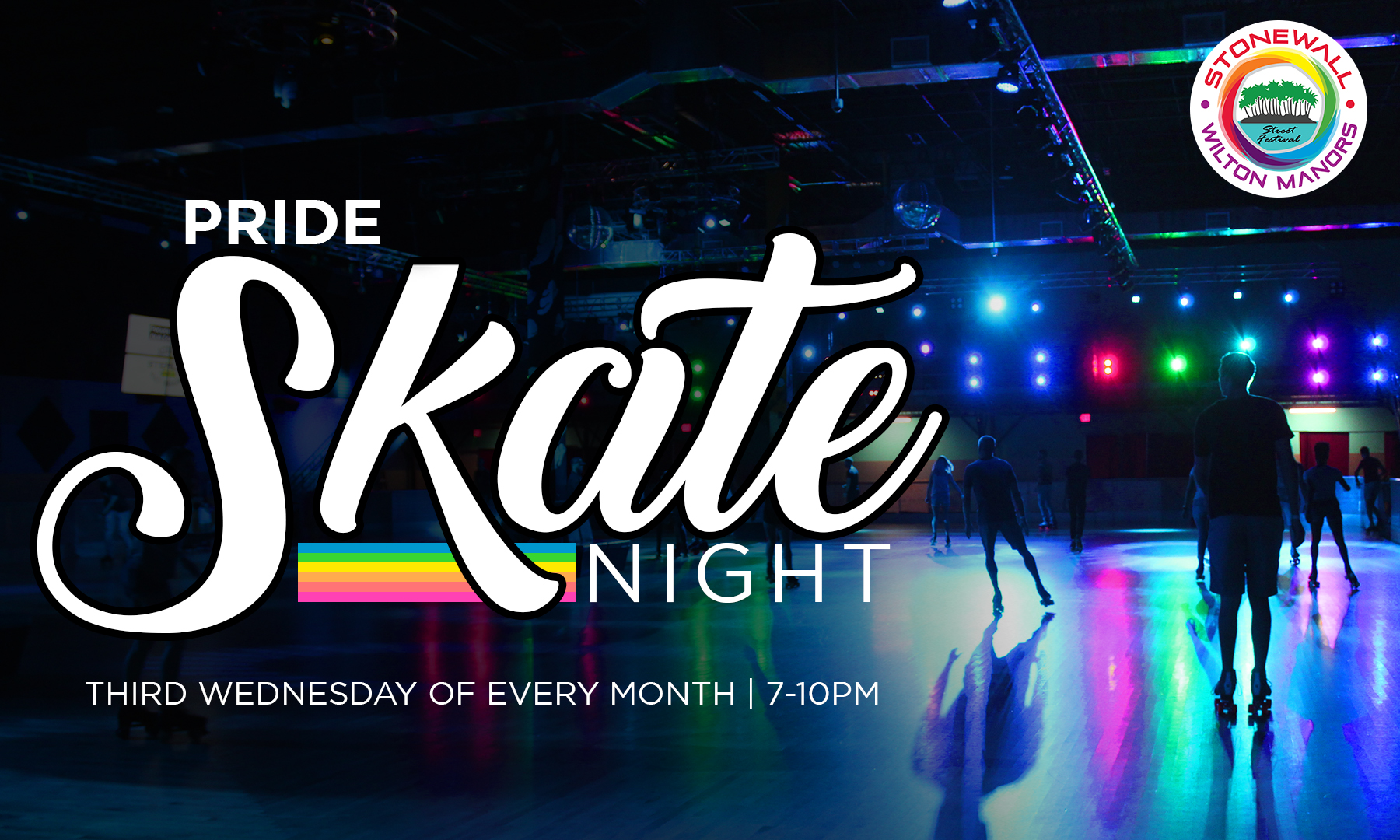 Join us for Stonewall Roller Skating Nights benefiting the Wilton Manors Stonewall Parade & Festival.
The Stonewall Parade & Festival is a star-studded event featuring local community heroes, dignitaries, and organizations. To help benefit the event, Xtreme Action Park will be hosting Stonewall Skate Nights on the 3rd Wednesday, EVERY month from 7pm to 10pm.
Bring friends and family along for classic fun on quad skates in our Arena Roller Rink.
Buy online now. $5 of every ticket sold will directly benefit the Wilton Manors Entertainment Group.
VIP TICKETS:
Upgrade to our VIP Ticket for $25 per person includes entrance to the party, skate rental, two beer or wine drink tickets, and a $5 donation.
Buy VIP Tickets
GENERAL TICKETS:
Only $15 per person includes entrance, skate rental, festivities and $5 from each ticket to benefit Wilton Manors Stonewall Pride Parade.
Buy Tickets Now
* ROLLER SKATING * PERFORMANCES * LIVE DJ * FULL LIQUOR BAR * SPECIAL GUESTS *
Each night will feature a Live DJ and Special Guest Appearances. Sponsored by WMEG, City of Wilton Manors, LeBoy Nightclub, Sterling Accounting Services, WMEG, Greater Fort Lauderdale Hello Sunny, Gold Coast Derby Grrls and GFLGLCC.
Xtreme Action Park is proud to have partnered with Wilton Manors Entertainment Group, City of Wilton Manors and the Greater Fort Lauderdale Gay & Lesbian Chamber of Commerce to create a fun and entertaining evening for the community
January 15, 2020
February 19, 2020
March 18, 2020
April 15, 2020
May 20, 2020
June 17, 2020
July 15, 2020
August 19, 2020
September 16, 2020
October 21, 2020
November 18, 2020
December 16, 2020
WMEG is a non-profit partnership between the City of Wilton Manors and the Wilton Manors Development Alliance Inc to provide resources, guidance and continuity for city sponsored cultural, social, and educational events with all funds dedicated to its mission to benefit the community of Wilton Manors. Learn more about the parade on their website: http://wiltonmanorsstonewall.comor email social@wmeg.org